One day in Cape Town
What would you do if you only have one day in Cape Town? That is exactly the question I asked a few Capetonians - musicians, wedding suppliers, artists travel agents and tour operators.
Everyone had one thing in common - they love Cape Town. So without further ado, let me share their favourites.
PS - Do you want to share some of your favourite places in Cape Town? Click here to share.
Wait, wait ...
This is my itinerary if you really have only one day in
Cape Town! (Click on image to enlarge)
---
I'd take him to a klopskamer (Ed - a room where the participants prepare for the annual Cape Coon Festival) to experience the energy of an age-old tradition.
And later we'd climb Lion's Head to watch the sun set.
David Kramer - South African singer and songwriter
---
I would take him up Table Mountain – it's a must-see for anyone from abroad. But that MUST be followed by wine (and loads of it) at a few of my favourite spots in Camps Bay.
Aleit Swanepoel - International wedding and function co-ordinator
---
Blouberg Beach for the classic Table Mountain and Table Bay view.
Robyn Roberts - Bridal and evening wear designer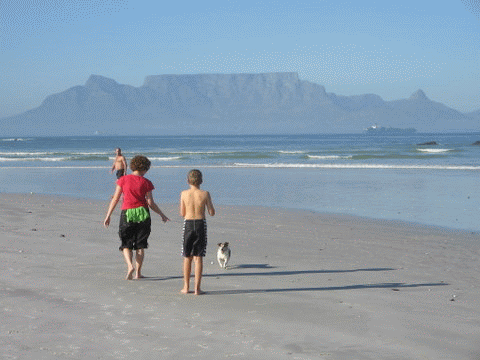 One day in Cape Town page.
---
The Winelands for its serene, fresh beauty, Robben Island for its huge role in our recent history, Table Mountain for the views, and Chapmans Peak drive for being so spectacular - ending up in Kalk Bay - either at Harbour Cafe or the Naked Chef at Outspan Restaurant.
Hesta du Plessis - Organising committee member of Kamersvol Geskenke
---
It's an obvious answer but it has to be Table Mountain - it's such an incredible view, I don't think I'll ever get tired of seeing it. Followed by sundowners in Camps Bay or Mouille Point.
Gaby Frescura - Inspiration behind the wedding blog Cap Classique and lover of all things wedding.
---
Definitely the V&A Waterfront. It is the gateway to Robben Islandand you can take a cruise to see the most beautiful beaches at Camps Bay and Clifton.
Table Mountain is also a must as well as Kirstenbosch Gardens for a picnic or even a summer night concert.
A big hit is also swimming with the penguins at Boulders Beach in Simonstown…the kids LOVE it.
Then of course there is Blouberg Beach with breathtaking views of Table Mountain and a wide selection of Restaurants at Eden on the Bay.
Not to be forgotten is a day to do Wine tasting.
We are really spoiled for choice and no matter where you go you will always taste fastastic wines.
Franschhoek is also the culinary capital of Cape Town and no matter where you go to eat you will not be disappointed. Rueben's is my favourite restaurant.
As you can see, there is SO much to see and do in Cape Town. ONE Day is not enough to experience all that Cape Town can offer!!!!
Marlene Pereira - Owner of Horizon Travel, a local and popular travel agency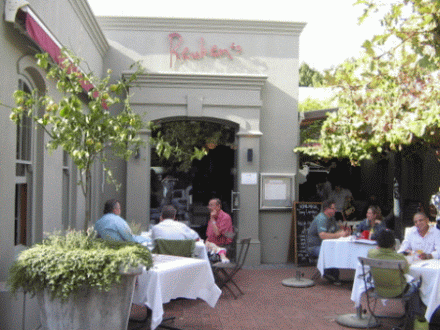 One day in Cape Town page.
---
I would take him/ her on a People and Portrait Township Tour. It is awesome! I do the best Township Tour.
Loads of opportunity to get great photographs, the kids are so special and photogenic. We visit a shebeen and drink home made Umqumboti beer with the locals.
It is a lifetime experience, and lots of people are nervous to go into township in South Africa with expensive camera equipment, but it is perfectly safe and lots of fun!
Peter Haarhoff - Owner of the Cape Photographic Company offering photographic tours in the Western Cape.
---
The V & A Waterfront is a must- a place for an abundance of unforgettable experiences and Table Mountain is a must see for everyone.
Caron Leslie - Franchise principal of the Re/Max Property Group.
---
Table Mountain without a doubt.
Sandra Fairfax - Owner of the Blue Buyou Company offering shopping tours in the Western Cape.
---
One day isn't enough to experience Cape Town! But fine. I'd take him to C'est La Vie in Kalk bay for a coffee and a breakfast, then we'd walk into the tidal pools at Dalebrook.

I then take him to town where we'd jump on some bicycles, ride through the Company Gardens and show him all the cool little coffee shops and boutique stores in town.
For a snack, we will have lunch at Clarke's in Bree Street where we'd eat cheeseburgers.

An afternoon of getting up to Table Mountain for a stroll and enjoying the view then back down to the Mount Nelson for a spot of tea.

After that, we'd hop onto the My Citi bus and get down to &Union to enjoy some craft beer and maybe some local music.

We'd finish the evening hanging out with friends and eating good food at The Sidewalk Cafe before returning home to crash.
Lauren Fowler - Illustrator, graphic designer and thing maker.
---
I will take them for winetasting on a wine route in Wellington or Stellenbosch!
Jana Opperman - Musician well-known for her harp music.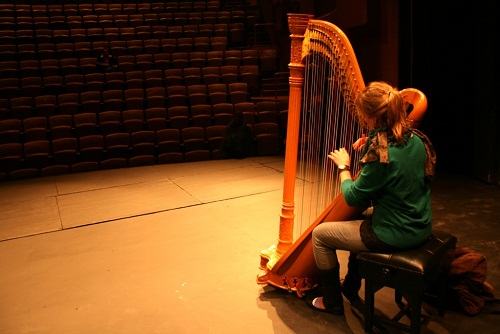 A Full Peninsula flight showing you more than just the Cape Peninsula, as you also see False Bay up to the Stellenbosch Mountains and up the West Coast.

Shopping in the V&A Waterfront with lunch and wine tasting inDurbanville Wine Region.

Dinner at Gold Restaurant with a Puppet show.
Braam Botha - Base Manager at Cape Town Helicopters.
Return from the one day in Cape Town page to Homepage.
 Hotel Accommodation Deals: Check Availability
Leave a comment?
comments powered by