Cape Town Theatre Venues
The Cape Town theatre scene offers a wide variety of entertainment venues and styles.
Below is a list of theatres to be found, not only in Cape Town, but also in the surrounding areas.
This page is a work in progress and I'll be updating it as soon as I find out about a venue not listed here.
Dankie vir die inspirasie Naretha!
Theatres in the Cape Peninsula
---
Artscape Theatre
City Foreshore
Artscape is ideally situated to serve the Cape's performing arts, film, tourism, entertainment, conference and exhibition industries.
The Artscape complex consists of a fully equipped Opera House, a theatre, a smaller theatre, a piazza, gardens, rehearsal rooms and ample parking.
Contact Info:
+27 21 410-9838
www.artscape.co.za
---
Barnyard Theatre
Willowbridge Lifestyle Centre, Tyger Valley
The Barnyard Theatre is a popular entertainment venue for live music shows. The in-house pizzeria and cash bar will cater for your food and drinks requirements.
Contact Info:
+27 21 914 8898
www.barnyardtheatre.co.za
Cape Town Theatre page.
---
Baxter Theatre
Rondebosch
The Baxter Theatre Centre is one of the major live theatre venues in Cape Town and provides a stage for all types of professional entertainment - music, drama, ballet, opera and intimate theatre.
The Baxter Theatre Centre consists of the main Theatre, a Concert Hall with a fine Von Beckerath organ and the intimate Golden Arrow Studio Theatre.
Contact Info:
+27 21 685 7880
www.baxter.co.za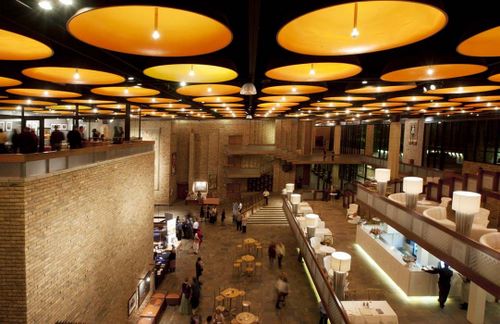 ---
Die Boer
Chenoweth Straat 6, Durbanville
Die Boer provides for dinner theatre by Afrikaans performers.
By Die Boer restaurant teater laat herlewe ons "aandete-teater" binne die "ambience" van 'n top restaurant en 'n volledig toegeruste teater.
Contact Info:
+27 21 979 1911
www.dieboer.com

Cape Town Theatre page.
---
The Fugard Theatre
Caledon Street, District Six
The 280-seater Fugard Theatre is located within the historic Sacks Futeran building in Cape Town's District Six, with the renovated Congregational Church Hall in Caledon Street as its entrance.
Contact Info:
+27 21 461 4554
www.thefugard.com
---
Grand West Casino
Goodwood
The Grand West entertainment complex provides for major local and international shows at the impressive Grand Arena with seating for 5 000 people.
Other venues include the Jackson Hall and Roxy Revue Bar.
Contact Info:
+27 21 505 7777
www.suninternational.com
---
The Intimate Theatre
37 Orange St, Gardens, Cape Town
The Intimate Theatre was established as a space primarily for newly established professionals to experiment and produce work without crippling theatre rental costs.
Contact Info:
+27 21 480 7129
www.intimatetheatre.net
---
Kalk Bay Theatre
52 Main Road, Kalk Bay
Kalk Bay Theatre is a 78-seater theatre located in the old Kalk Bay Dutch Reformed Church, built in 1876 and is a heritage protected building.
The building has been converted into an intimate theatre with a restaurant/bar area serving meals and drinks on the upper floor.
Contact Info:
073-2205430
www.kbt.co.za
Cape Town Theatre page.
---
Masque Theatre
37 Main Road, Muizenberg
The Masque Theatre is the performance home to a number of amateur dramatic societies in Cape Town.This first-class venue, seating 174, is able to host live shows (musicals, dramas, dancing, etc.), seminars, presentations, film shows, and so on.

Contact Info:
+27 21 788 6999
www.masquetheatre.co.za
---
The Maynardville Open-Air Theatre
Maynardville Park, Wynberg
The Maynardville Open-Air Theatre is one of the best-loved outdoor theatre venues in the Cape Town.
It offers its patrons both a wooded park for pre-show picnics and drinks, as well as a unique wooded 720-seater theatre setting.
Contact Info:
www.maynardville.co.za
---
On Broadway
44 Long Street, City Centre
On Broadway is bar-cum-restaurant committed to Cape Town's cabaret scene.
Contact Info:
+27 21 424 1194
www.onbroadway.co.za
---
Oumeul Teater (Old Mill Theatre)
Meulstraat, Paarl
Oumeul Teater is 'n ouwêreldse intieme teater waar gaste en kunstenaars heerlike saamkuier na 'n vertoning.
Contact Info:
Vicky 083 564 00 56
www.oumeulteater.co.za
Cape Town Theatre page.
---
Theatre on the Bay
Camps Bay
Pieter Toerien's Theatre on the Bay offers a good mix of local and international drama, musicals, comedy, cabaret, music and dance.
This intimate theatre is also home to the Act I Theatre Café.
Contact Info:
+27 21 438 3301
www.theatreonthebay.co.za
---
Villa Pascal Theatre
28 Van der Westhuizen Street, Valmary Park, Durbanville
Villa Pascal Theatreis an intimate, multi-cultural venue offering live entertainment by local and international performers.
Guests can bring a picnic basket (wine and snacks) and enjoy a unique theatre experience at the Cape's only theatre in a house.
Contact Info:
+27 21 975 2566
www.villapascal.co.za
---
Return from the Cape Town Theatre page to Homepage.
 Hotel Accommodation Deals: Check Availability
Leave a comment?
comments powered by