Free Cape Town Wi-Fi spots
Cape Town Wi-Fi Spots - Whether you're self-employed and in need of some camaraderie or inspiration, a local or international traveller looking for some bytes and a bite, or you simply like to catch up on e-mails or social media outside the office, here are some of the best coffee shops and deli's offering unlimited wi-fi in Cape Town:
---
Lunchworks
22 Waterkant Street, Cape Town
Monday to Friday, 6.30am to 5pm, Saturday 9am to 1pm
Plug points: more than enough
This café/sandwich bar is perfect for early birds, as well as all-day CBD captives. It's the brainchild of a husband and wife team, chef Jakub (Czech Republic-born) and local gal and manager Andrea.
After seven years in the hospitality industry in London (where they met), they moved to the Mother City with a vision: to offer quick but healthy meals at the kind of prices that allow you to eat there daily.
A central communal table and a bar top looking on to the pedestrianised street make for a comfortable workspace. We wanted customers coming in to work or lunch by themselves not to feel like a spare wheel, says Andrea.
There's also the option to sit on the pavement and enjoy the town buzz.
Happy hour: between 6.30am and 8am on weekdays you'll pay R10 for any coffee.
Cape Town Wi-Fi Spots page.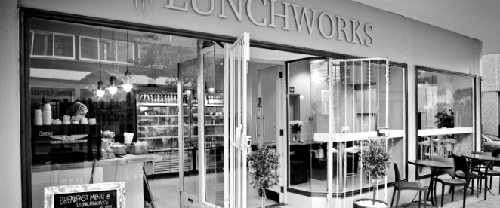 ---
Field Office
37 Barrack Street, Cape Town
Monday to Friday 7am to 4pm
Plug points: sorted
This is a perfect blend between co-working space and café. It's a no-fuss establishment with self-service, simple but tasty fare, and all coffees at R15 (visit between 7am and 9am, however, and you get any coffee for R10).
The café is also a showroom for the work of designers Pedersen + Lennard. Displays change regularly (one time a shelf selling locally made bags, next time photos of Die Antwoord by a local photographer) and once a year the team refreshes the café's furniture.
Clients include creatives from the area as well as tie guys (manager Shani's words) from the High Court. Outside at lunchtime, which can be busy, patrons generally come to work, so you can soldier on in relative quiet.
Bicycle commuters are welcome – just bring your bike in and the staff will show you where to store it.
Cape Town Wi-Fi Spots page.
Café Neo
128 Beach Road, Mouille Point
Monday to Sunday 7am to 7pm
Plug points: plenty
021 433 0849
Opposite the lighthouse and two clicks from the promenade, Café Neo got the workspace/catering feel right long before other establishments caught on.
Many a meeting is held here and a communal table means you can work in peace but with a pleasant camaraderie. Go often enough and you'll soon be spotting familiar faces.
The staff here have got it right too: they're attentive but don't go overboard – there's none of that guilt each time you have politely to decline a waitron.
The Greek-inspired lunches and snacks can be pricey but are worth every cent.
Cape Town Wi-Fi Spots page.
---
Loading Bay
30 Hudson Street, De Waterkant
Monday to Friday 7am to 5pm (reopens on Thurdays evening till late for burgers and fries), Saturday 8am to 4pm
Plug points: adequate
Another communal table and this one's almost the entire width of the café. This was once an industrial space and the beauty of it is the high ceilings, staggered floor levels (café on ground floor, then up you go to men's and, finally, women's apparel).
The view is of Table Mountain, though a new development opposite will soon put an end to that.
Expect freshly squeezed juices and quality ingredients, all local. The meat comes from ethical suppliers, Frankie Fenner Meat Merchants. It's really important to us who we support, says manager Nicole, who is owner Jon-Paul's girlfriend (they started dating a few years ago after she became a regular customer).
The bicycles mounted on the wall are both a décor piece and a nod to JP's commuter-friendly ethos. Loading Bay plans to ask the city council for a bike rail but for now you can park your bike next to the store's official bike outside.
Cape Town Wi-Fi Spots page.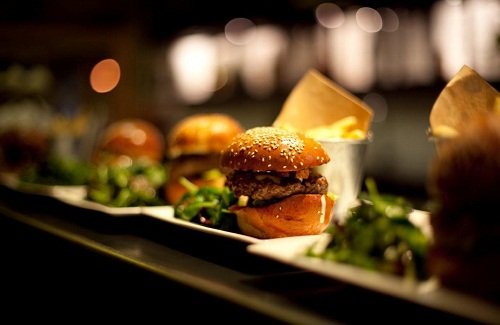 ---
Wellcafé
Wellness Warehouse, Lifestyles on Kloof
50 Kloof Street, Cape Town
Monday, Tuesday, Thursday and Friday 8am to 7pm; Wednesday 9am to 7pm; Saturday 9am to 5pm; Sunday 10am to 3pm.
Plug points: enough extension cords to make a plan
There's loads of space, tables aplenty, and it's self-service: a mobile worker's dream.
Graphic designer Chloe Hopkins works here regularly to be around like-minded freelancers and often stays for breakfast, lunch and tea. It's quiet and they almost seem to encourage people to come work here, she says.
The space is light and airy and has a balcony for those fresh air (or smoke) breaks and a view of Devil's Peak.
With a life-sized woodcut tree as a centrepiece and all that healthy fare on offer (free range, organic, lactose- or gluten-free, vegetarian, you name it), it's impossible not to feel energised – and procrastination can always be staved off with a get going smoothie.
Cape Town Wi-Fi Spots page.
---
Dulcé Café
Cape Gate Mall, Brackenfell
Monday to Thursday 8am to 10pm; Friday and Saturday 8am to 11pm; Sunday 8am to 9pm
Plug points: enough, though you might have to hog a table suited for four
Okay, so it's in a mall, not the most inspiring of places, but the advantage of Dulcé Café is its hours, which make it perfect for those who need wi-fi outside office time.
I was served by the super-friendly Mark, but you can catch co-owner Joanne most mornings.
Fortunately the café is under an enormous skylight, so you can at least keep tabs on the weather and feel connected to the world outside. You also have the option to sit in front of (though unfortunately not inside) the bookstore next door.
On offer is all-day breakfast, as well as half portions for the budget-conscious.
Note: try not to get distracted by the TV (showing the Oval Test while I was there), or all those winter sales.
Cape Town Wi-Fi Spots page.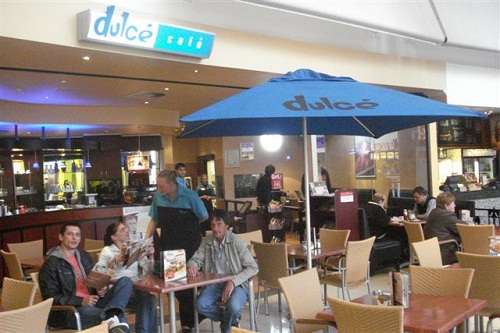 ---
Café Lacomia
In the nursery at Builders Warehouse, Main Rd, Retreat
Monday to Saturday 8am to 5pm, Sunday and public holidays 8am to 4pm
Bring an adapter, as you'll have to share the sole plug point with the cake display
www.cafelacomia.co.za
You won't find many laptoppers here, but you won't get the evil eye either. Staff are, without fail, warm and welcoming. Assistant manager Fazlin, who started as a waitress six years ago at the Northgate East branch (it's a chain, though you wouldn't think it), says this is her favourite for its atmosphere.
The nursery is small but suitably soothing and you've got the option to sit outside on sunny days. Lunch specials are usually of the skip dinner later kind; the day I visited it was pan-fried chicken schnitzel served with potato wedges and a fresh garden salad (R59.90).
The coffee is a special blend made for Lacomia by Beans for Africa and is also on sale for home use. All baked goods are made by the pastry chef at the Sunningdale branch (Fazlin gets excited about the pecan nut cheese cake.)
Bonus: with a bottomless filter for R12, you can get wired on the coffee too.
Cape Town Wi-Fi Spots page.
---
Empire Cafe
11 York Road, Muizenberg
Monday to Saturday 7am to 4pm; Sunday and public holidays 8am to 4pm
Plug points: take a seat at the street-facing bar
Although not on the beachfront, the café is close enough to give a vista that'll inspire great work – in front of you is sea and wide sky, and in the distance is the Hottentots-Holland mountain range.
The food is fresh and wholesome and the portions generous. The coffee is fair trade and organic and all staff are barista trained (by the supplier, who reportedly comes back for refresher courses if he's not happy with what they're doing).
Owner Dave, one of the guys behind Kalk Bay's original Olympia Café, has started a small produce garden at the back and hopes it'll eventually supply some of their fresh ingredients.
The staff are friendly and Dave will sit down and have a chat with regulars.
Cape Town Wi-Fi Spots page.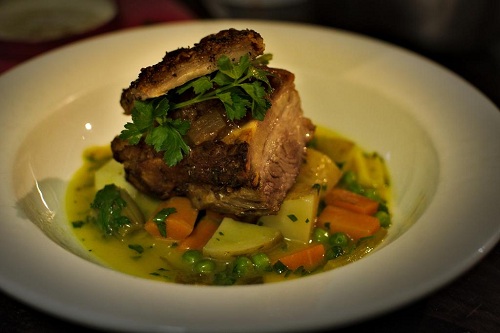 Source: Renata Harper (Sunday Times)
---
Return from Cape Town Wi-Fi page to Homepage.
 Hotel Accommodation Deals: Check Availability
Leave a comment?
comments powered by