Cape Town Shopping Malls and Markets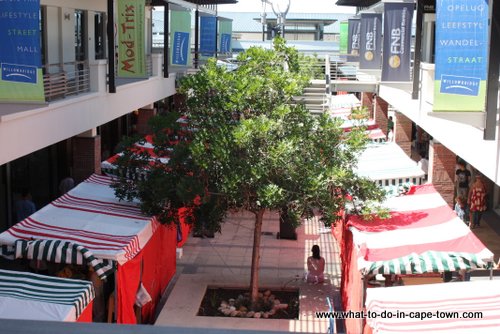 Cape Town Shopping - Here are a list of some of the more popular Markets and Shopping Centres in the Western Cape.

Regular Markets

Nitida Farmers Market is held in the Nitida Cellars on the Old Tygervalley Road in Durbanville.

Earth Fair Market
Earth Fair Market is passionate about providing access to top quality traders, artisans and ethical producers.

Lourensford Wine Estate Family Market
The Lourensford Wine Estate Family Market offers a variety of food products, such as fresh breads baked by the French baker, vegetables and fruit.

Constantia Waldorf Organic Market

The Constantia Waldorf Organic Market showcases a large selection of organic and biodynamic fresh produce, including fruit, vegetables, eggs and dairy.
Cape Town Shopping page.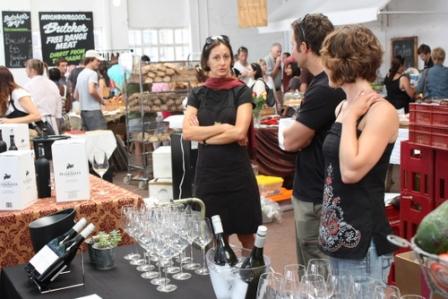 Stellenbosch Fresh Goods Market
Stellenbosch Fresh Goods Market is a vibey food market following Slow Food principles. All products made and sold at this market are homegrown.
The popular Willowbridge Slow Market focus on bringing country produce directly to your front door.

This award-winning market features over 100 specialty traders every Saturday and is a source for farm fresh organic foods and locally produced specialty foods.
The City Bowl Market on Hope promises to become the place where Cape foodies meet. Think oysters and champagne, crepes, sushi and croissants.
The monthly Bo-Kaap Crafts & Food Market is usually held on the first Saturday of the month at the Schotschekloof Civic Centre, Upper Wale Street.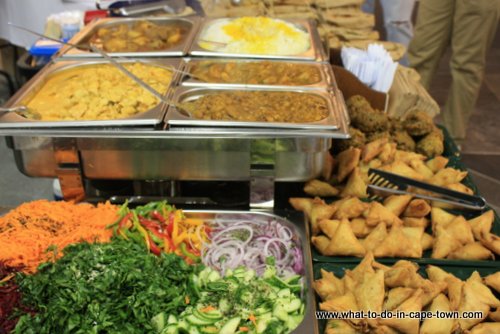 Cape Town Shopping page.
Large Shopping Centres

Canal Walk Shopping centre

Canal Walk Shopping Centre is situated a convenient 10-minute drive from Cape Town's city centre.
With over 400 stores, Canal Walk provides secure parking in 6 500 parking bays and is open daily from 9am to 9pm. This is the ultimate Cape Town shopping mall.
www.canalwalk.co.za

Cavendish Square

Cavendish Square Shopping Centre has more than two hundred stores.
The Centre boasts sixteen state-of-the-art cinemas as well as nineteen restaurants and coffee shops catering for all appetites ranging from fast foods to exclusive cuisine.
www.cavendish.co.za

Somerset Mall

Located , Somerset Mall is one of the most popular shopping destinations in the Cape.
Somerset Mall is situated in the heart of the Helderberg region in Somerset West 45km from Cape Town. With over 200 stores on offer you will definitely find something that will tickle your fancy.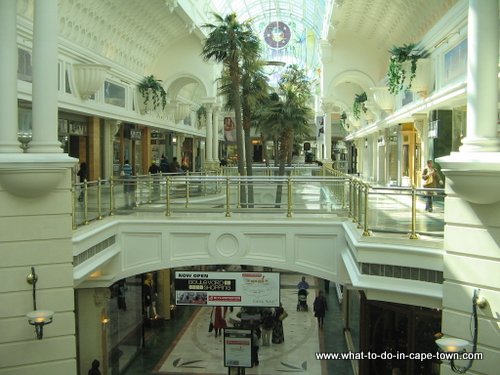 Tyger Valley Centre

Tyger Valley Shopping Centre features 275 stores, restaurants, a banking mall with bureau de change facilities, medical and dental facilities and a Ster-Kinekor cinema complex.
The centre is a mere 12-minute drive from Cape Town CBD and a stone's throw away from some of the most scenic wine farms in the country.
www.tygervalley.co.za

Victoria Wharf Shopping Centre, V&A Waterfront

With over 400 retail outlets Victoria Wharf Shopping Centre and the V&A Waterfront is South Africa's most popular shopping destination.
In total there 7583 open-air and underground parking bays which is patrolled and monitored around the clock to ensure peace of mind.
You'll be spoilt for choice with the best fashion brands, jewellery showrooms, art galleries, craft and lifestyle stores, and a vast range of eateries.
All stores at the V&A Waterfront are open till 9pm, seven days a week.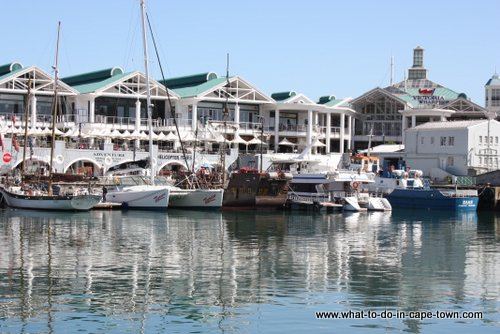 Cape Town Shopping page.
Boutique Shopping Centres

The Bromwell Boutique Mall is a former hotel where the 16 rooms are in fact 16 concept store providing unique and one off items, including:
Bags and accessories - Hand made to the owners specifications using dyed sopringbok leather, goats' leather and other unique fabrics.
Jewelry - Specially designed mannequins display the exclusive, novel and unique items which can be touched and felt.
Fashion - One off pieces of fashion for that special feeling or occassion.
Art - All the paintings and sculptures are unique, specially designed or imported for the Mall.
Each piece of work comes with a certificate of authenticity as each piece is individual and novel.
Old Biscuit Mill complex

The Old Biscuit Mill Complex houses a number of unique shops, selling jewellery, ceramics and stationery.
This complex also hosts, among other things, the weekly Neighbourgoods Market and Vintage Fair.
Willowbridge Mall
Located in the Northern Suburbs of Cape Town , Willowbridge Mall is a lifestyle centre and a open-air shopping experience.
It's a place where you can amble and browse boutiques in the fresh air and actually see the sun.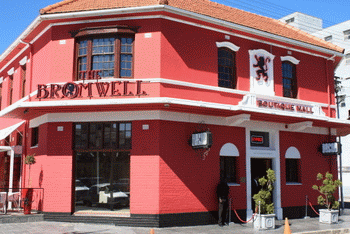 Return from Cape Town Shopping page to Homepage.

 Hotel Accommodation Deals: Check Availability
Leave a comment?
comments powered by