The Bromwell Boutique Mall
The Bromwell Boutique Mall is probably one of the most inspiring and uplifting art galleries that I've ever visited.
No, it's more than a gallery, it's a mall, a unique shopping experience!
Everything about it, the concept, the building and the way you are treated makes me proud to be a Capetonian.
Well done to everyone involved!
A 1927 hotel was restored it to its former glory.
During the renovation process the connecting walls of the 16 original hotel rooms were broken through which now allows for easy flow between the rooms.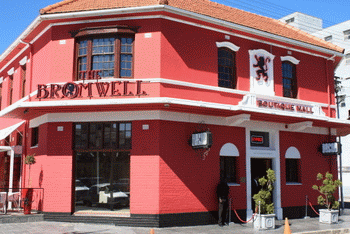 The 16 rooms are in fact 16 concept store providing unique and one off items, including:
Bags and accessories - Hand made to the owners specifications using dyed sopringbok leather, goats' leather and other unique fabrics.
Jewelry - Specially designed mannequins display the exclusive, novel and unique items which can be touched and felt.
Fashion - One off pieces of fashion for that special feeling or occassion.
Art - All the paintings and sculptures are unique, specially designed or imported for the Mall.
Each piece of work comes with a certificate of authenticity as each piece is individual and novel.
"... makes us proud to say that what you find at the Bromwell you will not find anywhere else."
You can also enjoy mouthwatering delicacies from Bread, a charming European style café, boulangerie and deli.

Useful Information
Hours:
09:00 - 19:00 daily

Website:
http://www.thebromwell.co.za


Telephone:
(021)447-4730


Location:
250 Albert Road, Woodstock, Cape Town

What to do in Cape Town homepage
---
More Cape Town Art Galleries and Museums
Cape Town Art
National Gallery | Michaelis Collection  | Rust en Vreugd | Association for Visual Arts
| The Bromwell Mall |  Irma Stern Museum | Rust en Vrede | Atlantic Art | Worldart Gallery
Waterkant Gallery | iArt Gallery | G2 Art Gallery | Cape Gallery
Raw Vision Gallery | Erdmann Gallery | The Photographers Gallery | 34 Long Art Gallery
Sit e Map | Legal Disclaimer