Cape Gallery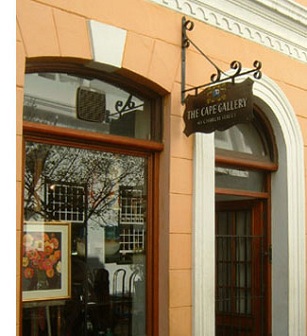 Cape Gallery entrance
The Cape Gallery is set in the heart of the old city off the Church Street walking mall, flanked by the colourful Georgian and Dutch facades built by the 18th and 19th century settlers.


Central to the tradition of South African painting is the abiding love of the land.
Early Cape painters were 'reporters' who described the topography, flora and fauna of this fascinating land, a conservative approach which is still favoured by the gallery's clients today.
Recently the emergence of the vibrant street art has added an essentially African character to the work on display.
Social Synergy Exhibition
Duration: 23rd July 2012 - 11th August 2012
Social Synergy
is a well observed phenomenon. People congregate at the theatre, music festivals and sports events, carnivals, in church, marching, queuing or simply relaxing on the beach on New Years day.
Crowd watching
can be a holiday pastime or an occasional happenstance. The viewer/artist is able to observe the broad aspect of the spectacle or look to appreciate the response of a small group or an individual.
Participating artists include: Tyrone Appollis, Kenneth Baker, Lesley Charnock, Patrick Cordingly, Trevor Dean, Anthea Delmotte, Ricky Dyaloyi, Sandy Esau, Gary Frier, Lee-Ann January, Boyce Magandela, Lindile Magunya, Vuyisani Mgijima, Xolile Mtakatya, Makiwa Mutomba, Geoff Price, Frank Ross, Roelof Rossouw, Velile Soha, Gerald Tabata, Meshack (Shakes) Tembani, Michael Waters, Timothy Zantsi
Contact details:
60 Church Street
Cape Town
+27 (021) 423 5309
http://www.capegallery.co.za
Gallery Hours
Mon - Fri: 09h30 - 17h00
Sat: 10h00 - 14h00
GPS Coordinates
S 33' 55.402 s
E 018' 25.144 s
What to do in Cape Town homepage
---

More Cape Town Art Galleries and Museums
Cape Town Art
National Gallery | Michaelis Collection | Rust en Vreugd|
Association for Visual Arts
|Bromwell Mall|
Irma Stern Museum|Rust en Vrede|Atlantic Art|Worldart Gallery
Waterkant Gallery|
iArt Gallery|G2 Art Gallery|Cape Gallery
Raw Vision Gallery|
Erdmann Gallery|The Photographers Gallery|34 Long Art Gallery

Site Map|Legal Disclaimer