The Michaelis Collection, Cape Town
Situated in the hub of Cape Town on Greenmarket Square, the Michaelis Collection is housed in the former City Hall (the Old Town House) built in 1755.
The Old Town House
The Old Town House was one of the first double-storey buildings when it was erected in 1755-1761 under the governorship of the popular Rijk Tulbagh. The three-arched portico, gay green shutters against the white and yellow plasterwork, exuberant moundings and fanlights and the quaint belfry reminds one of a Rococo building found in Europe.
The House also known as the Burgher Watch House served as the seat of the Burgher Watch, as that of the Burgher Senate, as a magistrate's court and as a police station. Then it became Cape Town's City Hall which it remained until, in 1905, the City Hall on the Grand Parade was completed.
© Iziko Museums (Photo Carina Beyer)
Art
Donated by Sir Max Michaelis in 1914, the art collection consists of a world-renowned selection of Nederlandish art from the seventeenth-century Golden Age.
There are works by Frans Hals, Jan Steen, Jacob Ruisdal, Anthony van Dyck and numerous others.
Portrait of a Woman by Frans Hals © Iziko Museums
Who was Sir Michaelis?
Sir Max Michaelis, whose bronze bust by sculptor Moses Kottler can be seen over the fountain in the courtyard, was a British-born Johannesburg businessman.
The Michaelis Collection is not the only institution that benefited from his generosity. His name is also associated with libraries, a hospital and with the Michaelis School of Fine Art.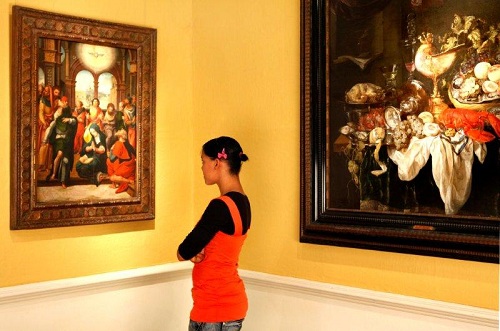 © Iziko Museums (Photo Carina Beyer)
After-hours, it is a popular venue for chamber-music concerts and lectures on a variety of cultural topics.
Meetings by cultural organisations and receptions is in the Van Dyck and Frans Hals Rooms or in the intimate courtyard behind the building.
There is also a consistent flow of special, temporary exhibitions making it a place to which to return from time to time.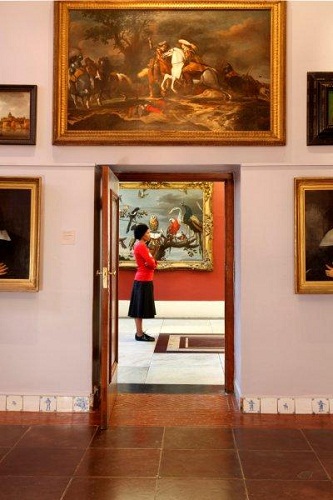 © Iziko Museums (Photo Carina Beyer)
Friends of the Michaelis Collection
In 1993 a society of Friends of the Michaelis Collection was established. Its aim is twofold: to stimulate interest in the collection and the activities of the Museum, and to channel financial and active support for its work. At a time of decreasing governmental subsidies for cultural institutions like ours, this will help provide a much-needed lifeline.
In return, its members receive free invitations to the exhibition openings, lectures, concerts and to all the many other cultural activities organized by the Friends of the Museum itself, free of charge or at a reduced rate. They also qualify for occasional discounts on publications, etc.
Ivy Garden Restaurant
At the very popular Ivy Garden, visitors to the museum can have a relaxing cup of coffee or enjoy traditional Cape food.
The Restaurant is situated in the historical courtyard, an ideal place to sit and relax.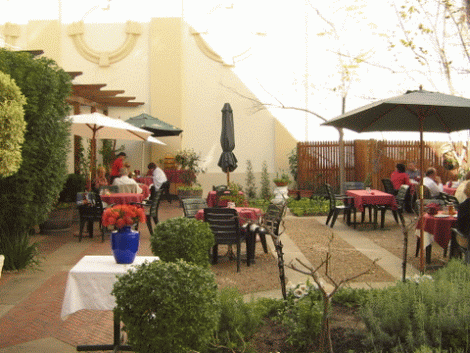 ---
Useful Information:

---
Hours:
Monday to Friday: 10:00 - 17:00
Saturday: 10:00 - 16:00
Closed Sundays, Workers Day and Christmas Day.


Website:
www.iziko.org.za


Telephone:
021 481 3933


Location:
Old Town House, Greenmarket Square, Cape Town
---
More Cape Town Art Galleries and Museums
Cape Town Art
National Gallery | Michaelis Collection | Rust en Vreugd | Association for Visual Arts
| Bromwell Mall | Irma Stern Museum | Rust en Vrede | Atlantic Art | Worldart Gallery
Waterkant Gallery | iArt Gallery | G2 Art Gallery | Cape Gallery
Raw Vision Gallery | Erdmann Gallery | The Photographers Gallery | 34 Long Art Gallery
---
 Hotel Accommodation Deals: Check Availability
Leave a comment?
comments powered by