Cape Town Art Museums and Galleries
Many Cape Town Art museums and galleries double up as both a museum and provides exhibition space. This is a selection of both museums and commercial art galleries
---
Art Museums
---
Irma Stern Museum

The permanent collection shows Irma Stern's development as an artist showcasing oils, water colours and gouache and charcoal works.
---
Iziko National Gallery

South Africa's premier art museum housing an outstanding collection of South African, African, British, French, Dutch and Flemish art.
---
Iziko Michaelis Collection

A world-renowned selection of Nederlandish art from the seventeenth-century including works by Frans Hals, Jan Steen and Jacob Ruisdal.
---
Iziko Rust en Vreugd

The finest surviving example of eighteenth-century urban architecture housing the art on paper – prints, drawings and watercolours - of the William Fehr Collection.
---
La Motte Museum

The largest room in the museum is dedicated to one of South Africa's greatest artists, Jacob Hendrik Pierneef. A selection of art by other distinguished artists are also on display.
---
Rupert Museum

The Rupert Museum showcases over 350 works in the unique private art collection of Anton and Huberte Rupert.
---
---
Sasol Art Museum

The Sasol Art Museum houses a collection of sculptures, paintings, ceramics and graphics done by both South African and foreign artists from the 19th and 20th century.
Cape Town Art page.
---
Daddy Long Legs Art Hotel
---
Commercial Art Galleries
---
34FineArt Gallery

34 Long Fine Art gallery exhibits art in various media by established South African artists like William Kentridge, Norman Catherine, Noria Mabasa , Willie Bester, Esther Mahlangu.
---
---
Atlantic Art Gallery

The Atlantic Gallery offers a broad selection of leading South African artists.

Their art include oils, pastels, water-colour and acrylic paintings and bronze sculptures.
---
The Bromwell Mall

A Unique Mall offering once-off collectable art as well as jewelry, bags and accessories and fashion.
---
Cape Gallery

Works on display include early Cape painters as well as vibrant street art.
---
---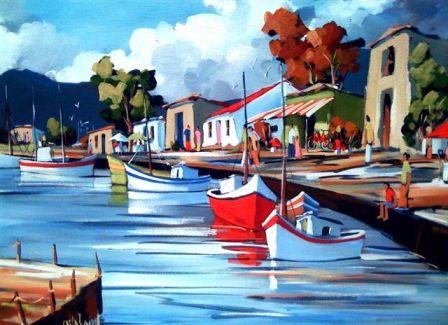 Cape Town Art page.
---
G2 Art Gallery

G2 Art provides original contemporary South African art including painting, ceramics, sculpture and prints.
In addition they have a diverse range of ever popular archival Cape Town photographs on canvas.
---
iArt Gallery

iArt Gallery was established with the intention of creating an institution that serves as both a visual and cultural indicator for collectors, as well as a forum for contemporary artists to exhibit their work.
---
Raw Vision Gallery

Raw Vision Gallery gives emerging artists in South Africa the opportunity to showcase their talent to a local and international audience.
---
Waterkant Gallery

Waterkant Gallery is a contemporary art and retail space in the De Waterkant neighbourhood in Cape Town.
Exhibitions will feature the works of new and emerging African talent, as well as more established artists.
---
World Art Gallery

Worldart specialises in the managing and marketing of artists and their art, while simultaneously providing a service that seeks to add value to the needs of those who appreciate and acquire art.
---
Return from Cape Town Art page to Homepage.
 Hotel Accommodation Deals: Check Availability
Leave a comment?
comments powered by