34FineArt Gallery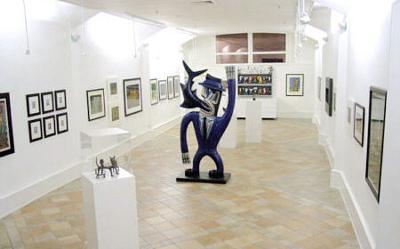 Ground floor exhibit
34FineArt Gallery exhibits art in various media by established South African artistsand and Internationa artists like William Kentridge, Norman Catherine, Esther Mahlangu, Damien Hirst, Takashi Murakami and Mr. Brainwash.


New young talent like Asha Zero, Motel7, Lionel Smit are also showcased.
Procedure to exhibit
The primary business of 34FineArt is dealing in the work of artists who have established reputations locally and internationally.
We also nurture the careers of selected emerging artists whom we believe have the ability, the commitment and professional perspective to become artists of distinction.
If you fall in one of the above-mentioned categories, then:
1. Introduce yourself to us by email.
2. Attach a condensed CV detailing tertiary qualifications in art, the number of years you have been working professionally, major exhibitions and galleries where you have shown, especially one-person shows, articles about your work in art publications and any other relevant information.
3. Add to this no more than three images of recent works.
4. Outline a proposal for the kind of exhibition you envisage.
5. Be sure to include your contact number.
If we decide in favour of an exhibition, we will contact you and arrange an informal meeting for discussing a format for the proposed exhibition.
We will draft a formal agreement outlining responsibilities and expected outcomes, to be signed by the gallery and the artist as a binding contract.
Contact details:
Second Floor
Hills Building
Buchanan Square
160 Sir Lowry Road
Woodstock
+ 27 82 354 1500
www.34fineart.com
info@34fineart.com
What to do in Cape Town homepage
---

More Cape Town Art Galleries and Museums
Cape Town Art
National Gallery | Michaelis Collection | Rust en Vreugd|
Association for Visual Arts
|Bromwell Mall|
Irma Stern Museum|Rust en Vrede|Atlantic Art|Worldart Gallery
Waterkant Gallery|
iArt Gallery|G2 Art Gallery|Cape Gallery
Raw Vision Gallery|
Erdmann Gallery|The Photographers Gallery|34 Long Art Gallery

Site Map|Legal Disclaimer