Cape Town Accommodation
What-to-do-in-cape-town.com offers the best deals on Cape Town accommodation and hotels around the Western Cape.
To assist and make it easier, I have added various ways to help you get to the best deal.


To do this, we have incorporated three international online accommodation companies into the site. By making use of these sites you are sure to get the best accommodation deals available:
Search all the best travel sites at once and find the cheapest price, then click to buy direct from hotels or your favorite sites.
TripAdvisor® features reviews and advice on hotels, resorts, flights, vacation rentals, vacation packages, travel guides, and lots more.
Africa's largest booking website with 13890 establishments, no booking fees as well as traveller reviews.
Search for hotel deals by using the search box to enter the date when you are looking for accommodation .... then click search. It's that easy!

This search box compares all of the major accommodation search engines on the web including Expedia, Agoda, Travelocity, LateRooms, HotelClub and many more to find YOU the best value hotels and accommodation in Cape Town!
---
Common sense tips to enjoy a safe stay
Never leave your luggage unattended.
Store valuables in hotel safe.
Keep your room locked at all times.
Hand in your room keys when you leave the hotel.
---
Cape Town Accommodation by Region
Some favourite Cape Town City Centre Hotels are: Daddy Long Legs Art Hotel, Blackheath Lodge, Boutique Manola and Protea Fire & Ice Hotel.
Accommodation in Franschhoek

Compare and save with budget deals for accommodation in Franschhoek. Find a wide range of accommodation including Franschhoek Country House and Le Franschhoek Hotel & Spa.
Franschhoek Accommodation - Click here
Accommodation in Gordon's Bay

Find the best rates for accommodation deals in
Gordon's Bay. Search and compare major accommodation booking engines to find the
best deals for hotels like Celtic Manor Retreat and Sunset Manor Guest House in Gordon's Bay.
Gordon's Bay Accommodation - Click here
Accommodation in Paarl

Search for the cheapest deals for accommodation in Paarl. Find information on all of the best hotels like Grande Roche Hotel and Lemoenkloof Historical Hotel in the beautiful Paarl.
Paarl Accommodation - Click here
Accommodation in Stellenbosch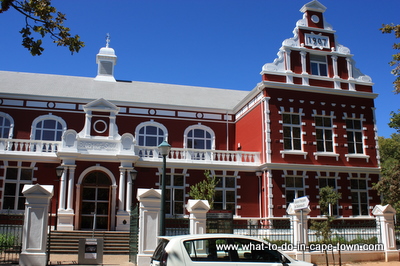 Search for the cheapest accommodation in Stellenbosch, including Asara Wine Estate, Dekraal Country Lodge, D'Ouwe Werf Hotel and Lanzerac Hotel & Spa. Book the cheapest accommodation here.
Stellenbosch Accommodation - Click here
Return from Cape Town Accommodation page to What to do in Cape Town homepage