Sandra Fairfax
Q: Tell me more about your company Blue Buyou – how it started and what it does?

I left the corporate world in 2000 and pioneered shopping tours in South Africa.

I was a shopaholic – we have the most amazing talented artists and I felt that our visitors were not getting to see the best that Cape Town has to offer and I then turned my passion and "sickness" into a business.

I have walked the streets and found all the hidden shopping treasures in and around Cape Town.

Five years ago I started sourcing South African hand made products and exported them to France for a client. I then met a few of the artists personally which added a new dimension to my shopping tours.

Clients love coming here and either meet the artists or having some information about the artists that they are purchasing products from.

I added a new dimension to my business when I was asked to assist with the interior decorating of a guest house up the West Coast which led to doing a few other interior decorating jobs for guest houses, private homes and the odd corporate.

I also started offering tailor made tours and have an amazing team of tour guides who I employ on a freelance basis.

I employ my guides once I know a little about my clients so that they are best suited for one another.

Q: An attraction in Cape Town that you never will get tired of visiting?

For shopping, Private Collection Antiques and for private wine tastings, De Toren

Q: A spot in Cape Town where you relax – any place.

Pink Coffee Boutique in Kenilworth (one of my new projects)


Pink Coffee Boutique
Q: If you had one day to show a friend from overseas something in Cape Town, where will you take him and why?
Table Mountain without a doubt
Q: What is your favourite restaurant and which dish do you enjoy?
Jakes on Summerly for Duck
Q: If you must choose one wine for a special occasion, what would it be?
Villeria sparkling wine for sundowners
Q: If you must suggest a hotel / b&b / guest house to one of your friends, which one would it be?
Kensington Place
– centrally located,good rates, excellent service
Q: What is your opinion of all the slow / organic markets jumping up all around the mother City? If you do visit them, which one is a favourite?
The Neighbourgoods Market
at the Old Biscuit Mill
Q: Which beach would you suggest for a romantic walk / evening?
Clifton - any of the 4 Clifton beaches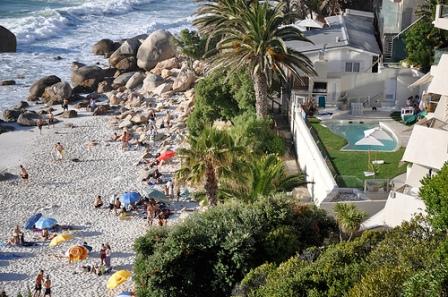 Clifton
Q: Do you have a Capetonian that inspires you?
Mark Allewell from Tourism radio and
Paul du Toit
the artist
Q: What would the one mother city festival be that must not be missed?
The Cape Town Jazz Festival
(end of March)
Q: Stellenbosch or Franschhoek and why?
Franschhoek – La Residence and the buzz – fantastic restaurants and shops
Q: Which food represents Cape Town for you?
babotie
Q: Favourite local band / artist?
Gold Fish