Paul du Toit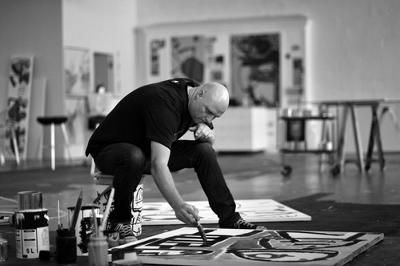 'I love the art of the untrained and unskilled. I love child art. Imagine drawing a line for the first time'. I am ... living proof that there is no distinction between work and play - it is all living. I was born in the '60s, raised in the '70s, survived the '80s, artist of the '90s.


How did you get into your career?
I read what Abraham Lincoln said: "The only way to predict your future is to create it yourself." Since then, I have worked myself to the point of exhaustion to achieve this goal.
Was it difficult to follow your passion?
I studied computers for a year, thinking I could work in the day and paint at night. It is difficult to support yourself as an independent artist. Luckily, I did not study art because I now feel uncorrupted. The desire to practice my art was so great that I decided to do it full time. My wife supported our family during the difficult start-up years.
A misconception about artists is ...
that they do not really work. Actually, artists work 24 hours a day and can never retire.
Art snobs are ..
so yesterday.
What inspires your work?
The inner drive to create something that no one else has seen before and that even I have not seen. I am inspired by people, travelling, punk music, alternative thinking, rock art, street art, childlike art; a crack in the pavement can spark a whole series of works. I am open to all influences and I don't block anything out.
What has been the most memorable moment in your career?
I was invited by Nelson Mandela and the 46664 campaign to create a bronze replica of Mandela's right hand
for his 90th birthday. I floated for days after the first meeting. It was an amazing experience that will be with me forever.
Where do you live?
Some say I live in my head or on "PlanetPaul". My base is Hout Bay.
What's your favourite building in Cape Town?
The Old Castle Brewery.
If you made a movie about Cape Town what would you call it?
Raw Beauty. I love the space above the ocean.
Have you ever taken public transport in Cape Town?
Yes, buses and taxis. There's great atmosphere and interesting people.
My Little Black Book
Willoughby & Co
, V&A Waterfront 021 418 6115 - I remember meeting Sam 15 years ago behind his sushi counter in this once- tiny shop. He has transformed the way people think about sushi.
Calma
, Hout Bay 021 790 6966, - I try to have flotation therapy once a week. Floating in a light- and sound- proof tank allows for a deep state of relaxation, helping the body recover from stress and pressure.
Deez
, Mexican Bistro, Hout Bay 021 790 3602 - One of Cape Town's best-kept secrets is under Hout Bay's tallest pine tree. I remember going there at 4am for a cup of coffee many years ago. You meet people there from all over the world. It's great for midnight snacks, beer, margaritas, tequila and great company.
Mabu Vinyl
, 2 Rheede Street, Gardens 021 423 7635 - Mabu buys, sells and trades vinyl LP records and CDs of all genres.
Icedream
, Main Road, Hout Bay 021 790 2496 - At this authentic Italian gelateria, the ice cream is hand made by Liana Lazzarotto. The chocolate-chip Stracciatella is a winner.
Extracted from a Sunday Times article: My city Paul du Toit.Apr 24 2010