David Kramer shares some favourite Cape Town spots
David Kramer answers some questions I asked him regarding some of his favourites in Cape Town:
Q: If you must choose only one of your songs that stands out as a favourite, which one will it be and why?
So Long Skipskop. Despite being a political song written during the dark days of apartheid it still speaks to people. A popular song with a message. (Ed - it's my favourite too!)
Q: As a child did you visit Cape town often? If you did what did you do here?
Came to visit family ocasionally. It was the early 1960s. Went to the Coimbra restaurant which, I think, was in Woodstock, to eat Mozambique prawns.
Q: If you had one day to show a friend from overseas something in Cape Town, where will you take him and why?
I'd take him to a klopskamer (Ed - a room where the participants prepare for the annual Cape Coon Festival) to experience the energy of an age-old tradition.
And later we'd climb Lion's Head to watch the sun set.
Lion's Head as seen from the top of Table Mountain
Q: What is your favourite restaurant and which dish do you enjoy?
Rainbow Reloaded (Ed - Signature Sushi dish with salmon and avo in the middle and salmon and tuna on the outside.)
Q: Which organic / slow market is your favourite?
The Old Biscuit Mill in Salt River
Q: Which beach would you suggest for a romantic walk?
Blouberg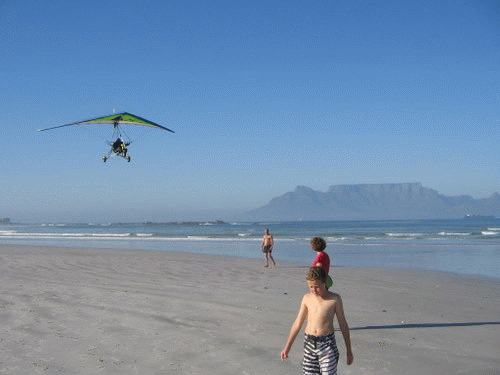 Blouberg Beach
Q: Why should someone come visit Cape town?
For it's people, it's beauty, it's history, and it's potential.
Q: Do you have a Capetonian that inspires you?
Most of them do.
Q: What would the one Mother City festival be that must not be missed?
Q: Stellenbosch or Franschhoek?
Both
Q: Your favourite venue to perform in Cape Town?
Q: Which food represents Cape Town for you?
Breyani
---
Some of David Kramer's music albums
---
David on You Tube
Return from David Kramer page to What to do in Cape Town homepage