Chapmans Peak Drive
Chapmans Peak Drive is one of the most spectacular marine drives in the world.
Initially constructed during the First World War, this 9km route with its 114 curves skirts Constantia Berg, and follows the rocky coastline to unfold breathtaking views in both directions.
The route starts at Hout Bay and then climb winds steeply up to Chapman's Point, revealing great views of the sandy bays down below, until the road reaches lower levels again at Noordhoek.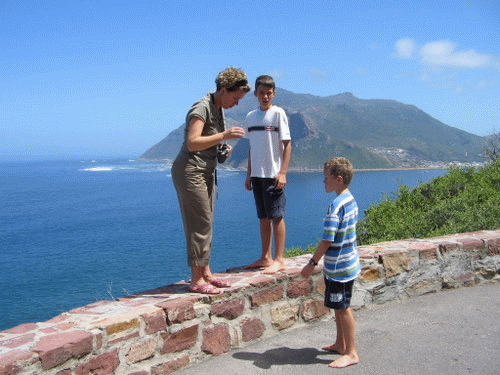 Hout Bay in the background.
Chapmans Peak Drive is operated as a toll-road.
In the interest of safety, tour buses may only travel in one direction – from Hout Bay to Noordhoek .
---
Top Tip 1
With the cliff rising up on one side, the drive is always at risk of rock falls. It is always a good idea to visit their website to see if the road is open.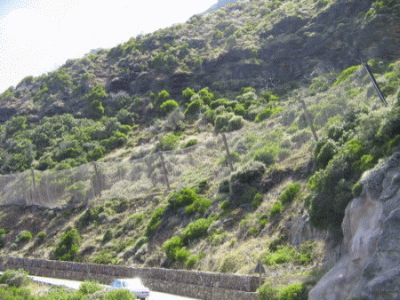 Top Tip 2
Try to drive from Noordhoek to Hout Bay. Then you are the ocean's side which makes your views better and makes it safer to stop at the many viewpoints.
---
What to do in the Chapmans Peak Area.
Picnics
Various viewpoints and picnic spots encourage people to make the most of their trip.
Photography
Viewpoints along the route enable road users to stop, enjoy the view and take pictures of the cliffs, sea and surrounding mountains.
Hiking
Mountain hiking up Chapman's Peak offer an accessible wilderness experience with spectacular views. The mountains have a number of indigenous plant species, including proteas, ericas and reeds.
Whale watching
Chapman's Peak Drive offer excellent whale watching spots.
Horse riding
Noordhoek with its 8km white sandy beach, is popular for horse riding.
Water sports
Hout Bay boasts one of the most active fishing harbours in South Africa. The Bay is probably one of the safest sailing venues anywhere, and is also ideal at most times for water sports of all kinds.
Shopping and sightseeing
The villages of Noordhoek and Hout Bay offer quaint shops in which to browse as well as numerous excellent restaurants.

Return from Chapmans Peak Drive page to Homepage.
 Hotel Accommodation Deals: Check Availability
Leave a comment?
comments powered by