Gaby Frescura
Tell us more about your Cap Classique blog?

Cap Classique is a wedding blog focusing on weddings, venues and suppliers in and around the Cape but with inspiration and ideas from all over the world.
We feature lots of real weddings, plus trend roundups, inspiration boards, DIY, guest blogs and giveaways.

There's also a monthly newsletter with even more useful information, including shopping guides for popular weddings so readers can recreate the look for themselves.

I started the blog because I wanted to showcase the amazing creativity and talent of the local wedding industry and assist brides getting married in Cape Town, whether they're local or living overseas.

As someone who's lived in London for almost a decade I know how hard it can be for a bride to get what they need online.

Are you a full time blogger?

I'm not a full time blogger (I wish!) - I have to fit it in around my day job and you'll often find me blogging away at 2am!

One spot in Cape Town where you relax – any place.

I have a big soft spot for the winelands. Give me a glass of chenin blanc and a view of Simonsberg and I'm a happy woman!
I feel particularly chilled at Delheim or Welmoed - both are unpretentious and welcoming and have lots of good memories for me.

If you had one day to show a friend from overseas something in Cape Town, where would you take him and why?

It's an obvious answer but it has to be Table Mountain - it's such an incredible view, I don't think I'll ever get tired of seeing it. Followed by sundowners in Camps Bay or Mouille Point.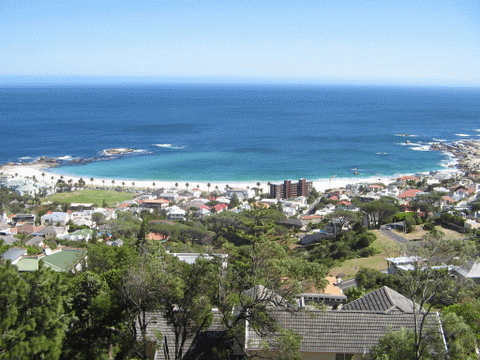 Camps Bay
What is your favourite restaurant/s and which dish do you enjoy?
For a relaxed evening meal I like Bardelli's in Kenilworth (021 - 683 1423). The pizza is amazing.
I also go back to
Wakame
whenever I'm home for the views and the sushi.
If you must choose one wine for a special occasion, what would it be?
A cap classique of course! Krone Borealis is a favourite. Or for a very special red, Shannon Vineyards Mount Bullet, which is made by my cousins in Elgin.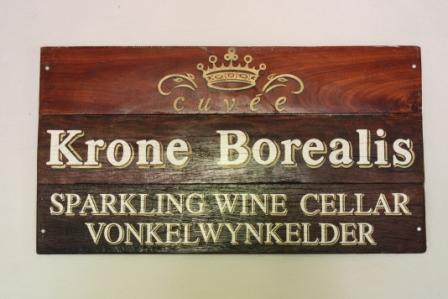 If you must suggest a hotel / b&b / guest house, which one would it be?
I haven't actually stayed there yet, but on my wish list is the
Grand Daddy
, which has a set of Airstream Trailers on the roof, each customised by a South African artist. So much fun!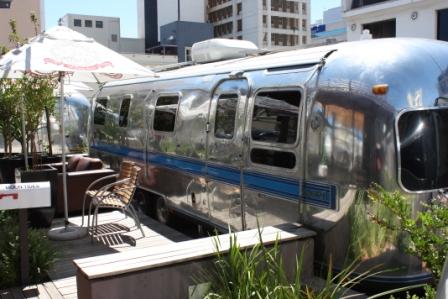 Airstream Trailer Park
Where do you enjoy shopping?
I hate to say it, but nothing beats the London high street in this regard! Although I do love the
Old Biscuit Mill
for interesting gifts, etc.
Which beach would you suggest for a walk?
Blouberg, for lovely soft sand and an iconic view.
Why should someone come and marry in Cape Town? What makes the mother city so special?
The Cape has everything a bride and groom could possibly ask for.
You can choose from an elegant vineyard wedding, a romantic beach ceremony, a country fete or a chic city soiree - no matter what you do you there's a range of venues and spectacular scenery, and all of it relatively close to the airport.
Plus, some of the most talented and friendly photographers, co-ordinators and designers in the world on your doorstep.
If you have guests coming from out of town it's a chance for them to have an unforgettable holiday with plenty of accommodation and entertainment options.
And, of course, there's the lovely weather.
It's pretty much perfect. ;)
What would the one Mother City festival be that must not be missed?
The Bastille Festival in
Franschhoek
.
Stellenbosch Paarl or Franschhoek?
I'm an old Matie so it has to be
Stellenbosch
!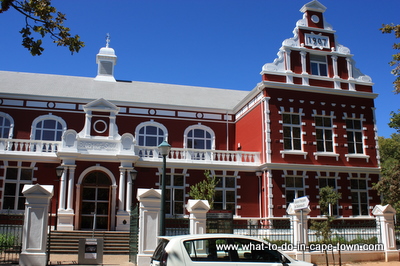 Sasol Art Museum, Stellenbosch
West Coast or Karoo?
I adore both, but for a wedding it has to be the West Coast.
Your favourite Cape Town based wedding photographer/s?
I have far too many to mention - our photographers are quite simply world class!