Josephine Mill Museum
The Josephine Mill Museum is dedicated to preserve the methods and equipment used it earlier years to grind flour.
Visitors will be able to see an exhibition of stone milling and an exhibition of recovered artefacts.

Examples include a Cornish steam boiler recovered from the banks of the Liesbeeck River and French Burr stones from the Marne Valley in northern France.
These stones are not cut from one piece, but are built up from sections of quartz, cemented together with plaster, dressed with a pattern to assist with the grinding, and bound with iron bands.
The Mill Shop sells stone ground flour, only available on the premises, freshly baked breads, homemade jams and condiments, baking utensils, and a variety of books and publications.

The Mill Shop
Caveau at The Mill is a restaurant, bar and function venue offering a range of tapas and main course options complimented by fine wines from the temperature controlled cellar.
Although favourites like beef cubes and béarnaise, lamb samoosa's with tzatziki and prawn tempura are always available, Caveau's menu changes daily.
Caveau is open Tuesday to Saturday (8am - 10pm) for both continental and full breakfasts, lunch and dinner and Sundays for brunch (10am - 3pm).

Caveau Wine Bar and Deli
Contact Details:
The Museum
+27 (021) 686 4939
www.josephinemill.co.za
Caveau Wine Bar and Deli
t: +27 (021) 685 5140
e: themill@caveau.co.za
Museum hours:
Monday to Friday: 09:00 - 12:30
(It is advisable to book beforehand as they are visited by many school groups)
Address:
13 Boundary Road, Newlands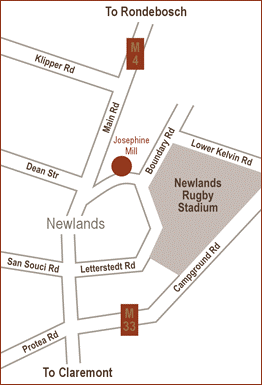 Map to Josephine Mill Museum
---
More museums in Cape Town
Cape Town Museums
SA Museum | National Gallery | Michaelis Collection | Rust en Vreugd|
Koopmans de Wet House | Maritime Centre | District Six Museum |
Franschhoek Motor Museum |Gold of Africa Museum |Heart of Cape Town Museum |
Irma Stern Museum |Rust en Vrede Clay Museum |SA Jewish Museum |
Stellenbosch Village Museum | Chavonnes Battery Museum | Cape Medical Museum
---
---
Return from the Josephine Mill Museum page to What to do in Cape Town homepage