The South African Jewish Museum, Cape Town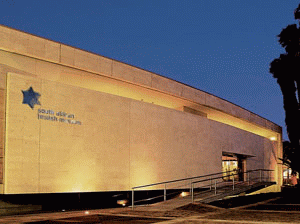 The South African Jewish Museum, situated in the "Museum Mile" in central Cape Town, provides an engaging account of South African Jewish history by means of interactive multi-media displays.
The main body of the building faces onto a paved landscaped court linking the Old Synagogue (1863) - the first synagogue built on South African soil, the Great Synagogue (1905), and the Albow Centre, which comprises the Museum Shop, the Gitlin Library, the Café Riteve, the Cape Town Holocaust Centre, and the Israel Abrahams hall.
On view at the Jewish Museum are rare Judaica artifacts, animated video footage of the famous Barney Barnato and Max Rose, and an award winning documentary film 'Nelson Mandela. A Righteous Man', which is screened throughout the day.
---
Useful Information:

---
Hours:
Sun to Thurs 10.00am - 5.00pm
Fri 10.00am - 2.00pm
Closed Saturdays and Jewish Holidays
Open Public Holidays
Website: www.sajewishmuseum.co.za
Telephone: 021 465 1546
Location: 88 Hatfield Street,Gardens, Cape Town
CAFE RITEVE
Café Riteve serves a fine selection of kosher meals and snacks, and is a venue for special occasions. The restaurant also provides kosher catering for events.
The restaurant is situated on the campus at 88 Hatfield Street, Gardens.
Hours:
Sundays to Thursdays 9am - 5pm
Fridays 9am - 3pm.
Closed Saturday and Jewish Holidays.
For bookings phone: 021- 465-1594
More Museums and Cultural attractions in the vicinity
Enjoy the view of the colourful houses or enjoy spicy Malay food in the Cape Malay community on the slopes of Signal Hill.
The Castle of Good hope is South Africa's oldest remaining building in use today.
The District Six Museum, works with the memories of forced removals.
This museum is well known for its huge natural science and social history collections.
Michaelis Collection

A world-renowned selection of Nederlandish art from the seventeenth-century including works by Frans Hals, Jan Steen and Jacob Ruisdal.
National Gallery

South Africa's premier art museum housing an outstanding collection of South African, African, British, French, Dutch and Flemish art.
Slave Lodge

The Slave Lodge is a permanent museum of slavery the focus of the exhibits aim to increase awareness on issues such as human rights, equality, peace and justice.
A selection of the beautiful statues to be found in the centre of Cape Town.
St Georges Cathedral stands at the southern tip of Africa, but its architecture and style of worship points to the Anglican heritage.
Return from Jewish Museum page to Homepage.
 Hotel Accommodation Deals: Check Availability
Leave a comment?
comments powered by