The Bo Kaap

Bo Kaap, situated just off Buitengracht Street against the slopes of Signal Hill has always been home to the Cape Malay people. Today it is a vibrant multicultural area, popular amongst tourists for the brightly painted houses that can be seen, when walking around.
A walk around on the cobble stoned streets reveals a lively and suburb filled with the brightly colored houses.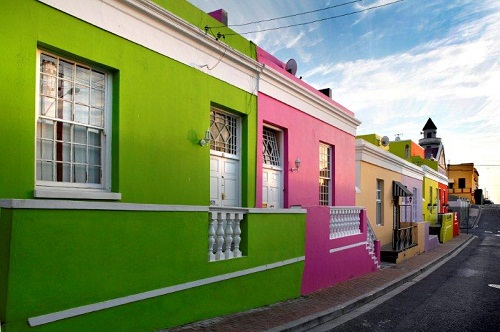 Chiappini Street, Bo-Kaap © Iziko Museums (Photo Carina Beyer)
There are also Muslim saint's shrines ("kramats") and many beautiful Mosques including the first established Muslim Mosque in South Africa.
Tana Baru Kramat © Iziko Museums (Photo Carina Beyer)
Cape Malay Cuisine is very popular. It is the use of very aromatic spices and herbs that makes Cape Malay cooking so unique.
Malay culture influenced South African food by adding foods like bobotie (curried mince meat) denningvleis (lamb stew) and blatjang (fruit chutney).
The museum, furnished as a house that shows the lifestyle of a nineteenth-century Muslim family, tells the story of the local Islamic culture and heritage.
Bo-Kaap Museum © Iziko Museums (Photo Carina Beyer)
What to do:

Noon Gun:
The Noon Gun have been used to signal noon (12pm) since 1902.
The gun is fired daily from Monday to Saturday.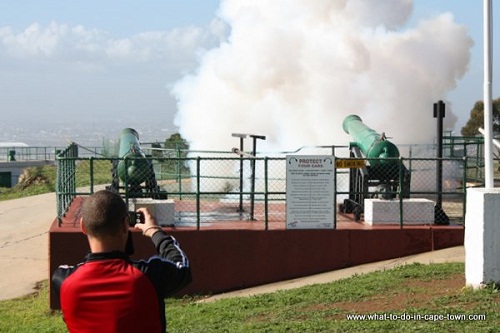 Enjoy a lovely meal at Noon Gun Tea Room afterwards.
Return from Bo Kaap page to Homepage.

---
Western Cape Accommodation

---
Recommended Cape Town City Centre Hotels
Franschhoek Accommodation
Compare and save with budget deals for accommodation in Franschhoek. Find a wide range of accommodation including Franschhoek Country Houseand Le Franschhoek Hotel & Spa.
Franschhoek Accommodation - Click here
Gordon's Bay Accommodation
Find the best rates for accommodation deals in
Gordon's Bay. Search and compare major accommodation booking engines to find the best deals for hotels like Celtic Manor RetreatandSunset Manor Guest House in Gordon's Bay.
Gordon's Bay Accommodation - Click here
Stellenbosch Accommodation
Search for the cheapest accommodation in Stellenbosch, including Asara Wine Estate, Dekraal Country Lodge, D'Ouwe Werf Hotel and Lanzerac Hotel & Spa. Book the cheapest accommodation here.
Stellenbosch Accommodation - Click here
 Hotel Accommodation Deals: Check Availability
Leave a comment?
comments powered by