St Georges Cathedral, Cape Town
St Georges Cathedral stands at the southern tip of Africa, but its architecture and style of worship points to its Anglican heritage.
The daily round of worship and the prayers maintain this place as a focus of worship and draw people of all walks of life into this space.
Ever since the arrival of Bishop Gray in 1848 there has been a sustained effort to maintain the cathedral's standard of music.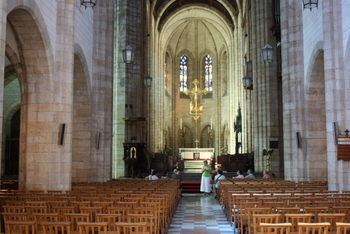 The liturgical performances of the great orchestral masses by composers such as Haydn, Mozart, Schubert, Beethoven, Bruckner and Stravinsky have become an important part of the cathedral's music tradition.
Full choral evensong is sung on Sunday evenings.
St Georges Cathedral is fortunate in having some fine Gabriel Loire windows.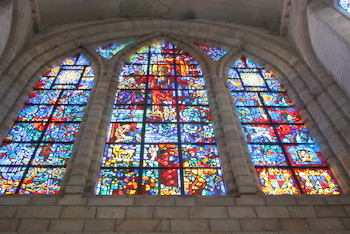 The ten bells are rung at occasions both joyful such as weddings and sad such as funerals, as well as important civic events. The Cathedral ringers are always ready to welcome new or visiting ringers.
The Cathedral Book and Bric-a-brac Shop
The shop is across the car park from the church, facing Queen Victoria Street.
Come and browse for books of all kinds, interesting bric-à-brac, antiques and collectibles, paintings and pictures, CDs and old records, and the occasional small piece of furniture.
Proceeds from the shop support Cathedral activities, the Cathedral music fund, and selected external outreach ministries.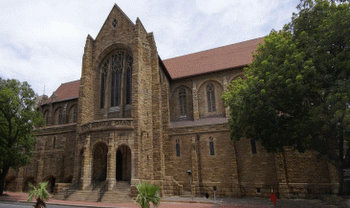 ---
Useful Information:

---
Weekday Services:

Said Eucharists
07h15 Monday to Friday
13h15 Monday to Friday
10h00 Every Wednesday
17h30 First Tuesday of the month (Healing Mass)
08h00 Saturdays and Public Holidays

Sunday Services:

07h00 Said Eucharist
08h00 Said Eucharist
10h00 Cathedral Eucharist
19h00 Evensong

Website:
www.stgeorgescathedral.com


Telephone:
021 424 7360

Location:
5 Wale Street, Cape Town
---
View more Cape Town Culture sites


The Afrikaans Language Monument | Bo-Kaap | Cape Town Statues | Castle of Good Hope | The Company Garden | Montebello Design Centre | Nobel Square | The Noon Gun | Rhodes Memorial | Robben Island | South African Museum | SA Jewish Museum | Stellenbosch Village Museum |
---
Return from St Georges Cathedral page to Homepage.
 Hotel Accommodation Deals: Check Availability
Leave a comment?
comments powered by