Rondevlei Nature Reserve

Rondevlei Nature Reserve was established as a bird sanctuary in 1952.
Today it is a well-run nature reserve, with a museum, a network of footpaths, viewing towers, and several hides named after well-known birders.
There is a permanent wetland with Cape Flats Sand Fynbos to the north, and seasonal wetlands and Cape Flats Dune Strandveld in the south.
About 278 species of indigenous plants grow here and rare and endangered plants are nurtured. These include the Cape Flats Conebush and the Cape Flats Erica, which became extinct in the wild.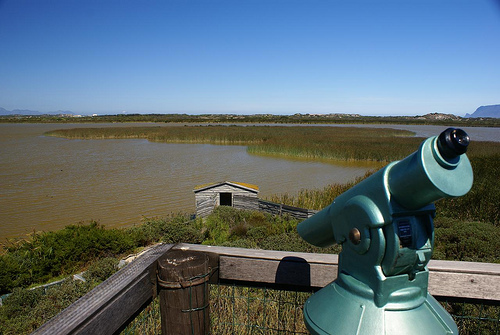 Bird Hide (Photo by DanieVDM)
There are 237 bird species: from Ducks to Herons, Ibises, Pelicans, Weavers and many more.
Mammal species include Cape Grysbok, Porcupine, Cape Dune Mole rat, Cape Clawless Otter and Small Spotted Genet.
Hippos have been reintroduced, but your chances of seeing them are slim.
With so much fauna and flaura to see, grab your binoculars and visit the Rondevlei Nature Reserve!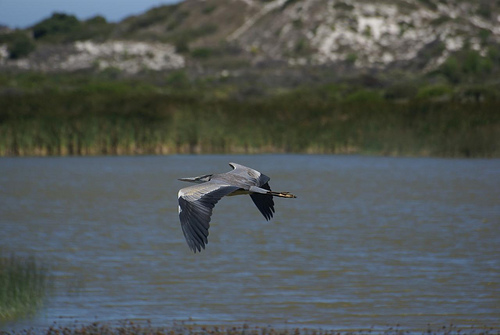 Bird in Flight (Photo by DanieVDM)
---
Useful Information:

---
Hours:
07h30–17h00 daily
07h30–19h00 Saturday and Sunday (Only December to February)
Closed Christmas Day

Website:
www.rondevlei.co.za

Telephone:
021 706 2404

Location:
Corner of Perth Road and Fisherman's Walk, Grassy Park, Cape Town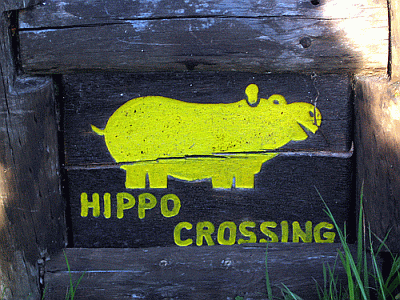 Hippo Crossing Sign (Photo by g-hat)
Return from Rondevlei Nature Reserve page to Homepage.

---
More Nature Reserves, Botanical Gardens and Game Parks in the Western Cape.

Aquila | Bartholomeus Klip | Buffelsfontein | Cape Point | Cecilia Forest
Chapmans Peak | Clara Anna Fontein | Harold Porter | Hottentots Holland
Intaka Island | Kagga Kamma | Kirstenbosch | Koeberg | Kogelberg
Lion's Head Walk | Rietvlei | Silvermine | Tokai Forest Arboretum
Tygerberg | US Botanical Garden | West Coast Park

---
Franschhoek Accommodation
Compare and save with budget deals for accommodation in Franschhoek. Find a wide range of accommodation including Franschhoek Country House and Le Franschhoek Hotel & Spa.
Franschhoek Accommodation - Click here
Gordon's Bay Accommodation
Find the best rates for accommodation deals in
Gordon's Bay. Search and compare major accommodation booking engines to find the best deals for hotels like Celtic Manor Retreat and Sunset Manor Guest House in Gordon's Bay.
Gordon's Bay Accommodation - Click here
Stellenbosch Accommodation
Search for the cheapest accommodation in Stellenbosch, including Asara Wine Estate, Dekraal Country Lodge, D'Ouwe Werf Hotel and Lanzerac Hotel & Spa. Book the cheapest accommodation here.
Stellenbosch Accommodation - Click here
---
 Hotel Accommodation Deals: Check Availability
Leave a comment?
comments powered by