Hottentots Holland Nature Reserve
The Hottentots Holland Nature Reserve is a 70 000 ha reserve in the Hottentots Holland Mountains approximately 90km from Cape Town.
The reserve streches from Grabouw in the south to Villiersdorp in the north and plays an important part in the conservation of the approximately 1 300 species of mountain fynbos.
Mountain fynbos vegetation is characterised by ericoids (heather), restoids (reeds) and proteoid shrubs like proteas and conebushes.
The area is very mountainous with peaks ranging from 500m to Sneeukop which is 1590m high.
The annual rainfall may be as high as 3 300mm on the Dwarsberg plateau and the winds are frequent and strong. Summers are generally mild and dry.
Weather conditions in the mountains can be unpredictable and dangerous! Therefore be prepared when hiking by taking enough water as well as something warm.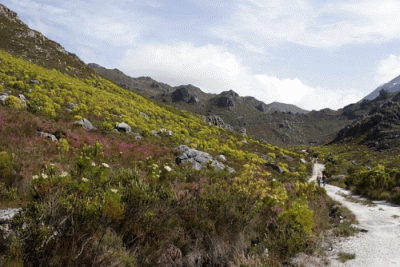 Hottentots Holland Nature Reserve page.
---
What to do:
---
Birding - Approximately 110 bird species, including several species of raptor, have been recorded.
Animals - Animals that can be seen are: Cape Mountain zebra, eland, bontebok, klipspringer common duiker and red hartebeest.
Jan Joubert's Gat bridge - One of the first bridges built in South Africa which is still in use.
The Oxwagon tracks and cannons in the Gantouws Pass above the Sir Lowrey's Pass are national monuments.
Various hiking trails - from 5km to 50km - with overnight facilities.
Boegoekloof Trail - This is a 24km (Eight hours) out-and-back route over rugged and mountainous terrain.
Palmiet Trail - This easy 6km (2 hours) circular route is designed for visually impaired and disabled people, but is not suitable for wheelchairs. It is also a great family hike.
Boland Hiking Trail - The section of the Boland Hiking Trail traversing the reserve, has two overnight sites, one with two huts and another with one hut and various routes of one to three days to choose from.
Kloofing - Riviersonderend Gorge (15 km / 8,5 hrs) and Suicide Gorge (17km / 8 hrs)
Mountain Biking - The Reserve has two mountain bike trails.
---
Useful Information:

---
Website:
Telephone:
0861 CAPENATURE (227 362 8873)

Location:
Take the N2 from Cape Town and turn left at Tthe Orchard Farm Stall.
The entrance to the the reserve is 11km from Grabouw on the R321 to Villiersdorp.

Something to do while you are in the vicinity of the Hottentots Holland Nature Reserve.
The Elgin Wine Route is a new wine route in the Elgin Valley, Grabouw.
All the wine growers are members of the Groenlandberg Conservancy whose aim it is to do business in an ethical manner with special attention to nature conservation and social well-being and upliftment.
On the route you can expect wine tastings, cellar tours, restaurants, function venues and accommodation.
---
Return from Hottentots Holland Nature Reserve page to Homepage.
 Hotel Accommodation Deals: Check Availability
Leave a comment?
comments powered by