Seidelberg
Established in 1692 the farm was originally known as "De Leuwen Jagt" - Dutch for "The Lion Hunt".
In 1997 Roland Seidel, who originates from Germany renamed the farm Seidelberg.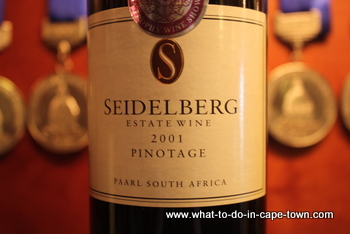 Wine
Wines are produced under three labels:
The Estate range, Roland's Reserve range and the De Leuwen Jagt range.
Tasting
Wine tasting can be done in the underground tasting room or under the pergola with views over Table mountain.
Cellar tours are available.
Monday - Friday: 09h00 to 18h00 (19h00 in summer)
Saturday - Sunday: 10h00 to 18h00 (19h00 in summer)
Public holidays: 10h00 to 18h00 (19h00 in summer)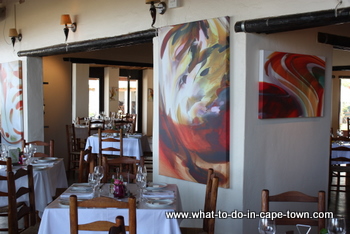 Inside the restaurant
De Leuwen Jagt Restaurant
The Restaurant offers typical Cape Malay flavours and fresh, local and seasonal menus which includes "Signature Dishes" which reflect the history of cooking skills on the Estate.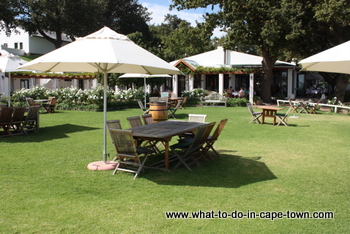 The restaurant offers several outdoor terraces under the oak trees.
Picnic Baskets can be booked in spring and summer.
Deli Counter
The Deli offers Piadina (Italian flat bread folded with varieties of filling of your choice) and platters served with Ciabatta bread on the lawn or under the Pergola.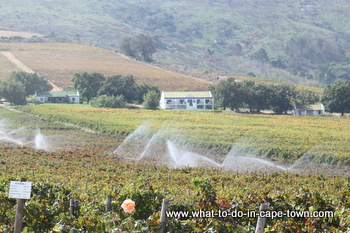 Enjoy a view over the vineyards
Accommodation
Three historical 4-Star country houses offer spacious accommodation equipped with wireless internet, satellite TV, CD player, log fire places.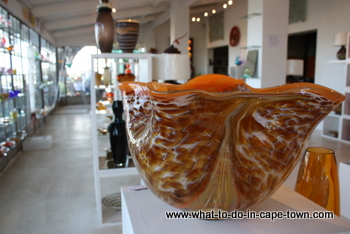 Red Hot Glass Gallery
Red Hot Glass
Red Hot Glass is one of very the few Venetian-style glass blowing studio's in South Africa.
Artists Liz Lacey and David Jackson create glass art, demonstrating their mastery of one of the oldest crafts on earth.
Unique art pieces can be bought at the gallery adjoining the studio.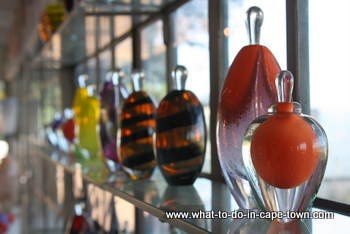 Tractor Rides
Tractor Rides take about 25 minutes and is a wonderful way the see the vineyards.
Guests can hop on and visit the neighbouring farm Fairview to taste some cheese, hop back on again to return to Seidelberg.
Tractor rides are available from end November until end March on the weekends and daily between Christmas and New Year.

Petting Zoo
Kids can purchase animal feed and feed the farm animals.
Jungle Gym
A jungle gym is situated on the lawn area and will keep the children entertained while parents can relax on the lawn.
Accommodation in the vicinity of Seidelberg Wine EstateContact details:
t: +27 (0)21 863 5200
e: info@seidelberg.co.za
www.seidelberg.co.za
What to do in Cape Town homepage
---