Landskroon Estate
Landskroon Estate is situated along the southwestern slopes of Paarl Mountain.
Winemaking at Landskroon dates back to the 17th century when the French Huguenot settlers came to the Cape.

Today Landskroon comprises more than 300 hectares and is managed as a private, family operation and owned by the families of brothers Paul and Hugo de Villiers.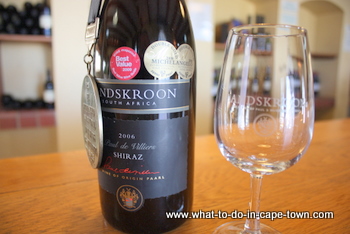 WineWhite Wines
- Chenin Blanc, Sauvignon Blanc, Chardonnay, Blanc de Noir and Paul Hugo White.
Red Wines
- Cinsaut, Cinsaut Shiraz, Pinotage, Cabernet Franc Merlot, Merlot Shiraz, Cabernet Sauvignon and Paul Hugo Red.
Paul de Villiers Red Wines
- Shiraz, Cabernet Sauvignon and Reserve.
Fortified Wines
- Port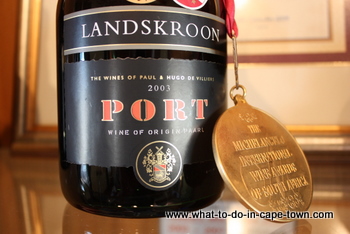 Tasting
The award winning wines can be tasted in the tasting room next to the cellar.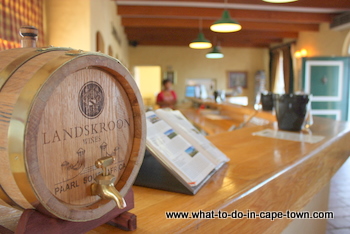 Care for a taste of fine wine?
Hours
Monday - Friday: 08:30 – 17:00
Saturday: 09:00 – 13:00
Sunday: Closed
Closed on on the following Public Holidays:
Good Friday, Christmas Day, New Year's Day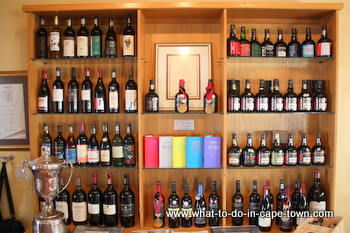 The "brag" cabinet
Accommodation
Experience the pleasure of staying on a wine farm.
The self-catering cottage caters for four guests and the close proximity to the towns of Stellenbosch, Paarl and Franschhoek, makes this an ideal base from which to explore the Winelands.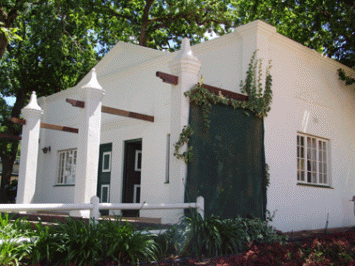 Self-catering Cottage
Accommodation in the vicinity of Landskroon Estate

Contact details:
t: +27 21 863 1039
www.landskroonwines.com
What to do in Cape Town homepage
---