Backsberg Estate
Backsberg Estate lies on the slopes of the Simonsberg Mountains on the Paarl Wine Route.
Their philosophy is to provide pleasure and enjoyment to a broad range of wine lovers.

Winemaking is done with as little intervention as possible and with the sole aim to produce wines with a high level of drinkability.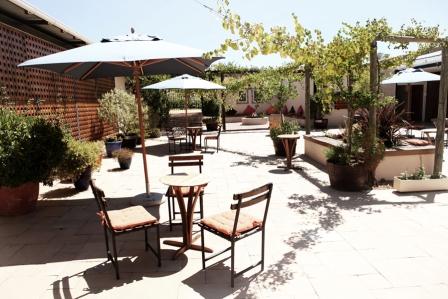 The Courtyard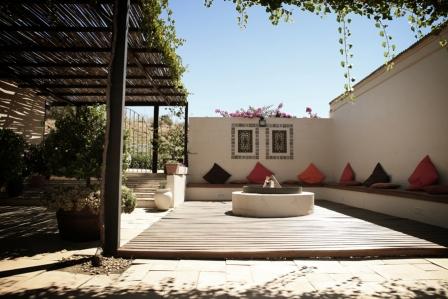 A cosy corner in the Courtyard
Wine
The wines are produced and sold in different ranges:
Premium Range
- Sauvignon Blanc, Chenin Blanc, Chardonnay, Rosé, Dry Red, Pinotage, Merlot and Cabernet Sauvignon.
The Black Label range
- John Martin Sauvignon Blanc, Pumphouse Shiraz and Klein Babylonstoren (Cabernet Merlot Blend).
Babylons Toren Reserve Range
- Chardonnay, Viognier and Cabernet Merlot.
Mediterranean Range
- Aldorina, Bella Rosa and Elbar.
Kosher Wines
- Kosher Chardonnay, Kosher Pinotage and Kosher Merlot.
Organic Wines
- Organic Chardonnay and Organic Merlot.
Fortified Wines
- Hanepoot, Pinneau and Port.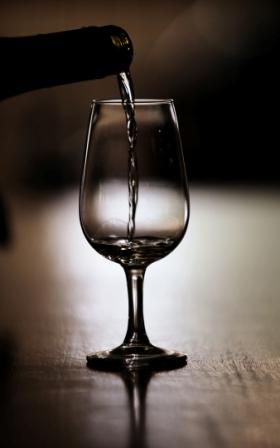 Brandy
Since 1991 the estate have been producing a high-end brandy through double distillation in a still purchased from Cognac in France.
Brandies available are Sydney Back Brandy NV, Sydney Back Brandy 10 Year and Sydney Back Brandy 15 Year.
Tasting room hours
Monday - Friday: 08h30 - 17h00
Saturday: 09h30 - 16h30
Sunday: 10h30 - 16h30
Cellar tours by appointment.
Restaurant
Backsberg Restaurant set in the gardens serve lunch daily from Monday to Sunday.
Enjoy the signature dish of spit braai lamb, roast potatoes and Linda's Chocolate Roulade.
On Sundays they have a set menu.
Open daily 10h00 - 16h00.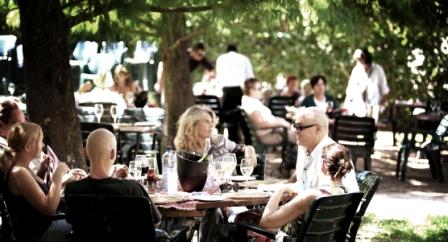 Conferences and Functions
Neville's Place @ Backsberg can accommodate groups from fifty up to two hundred and fifty guests.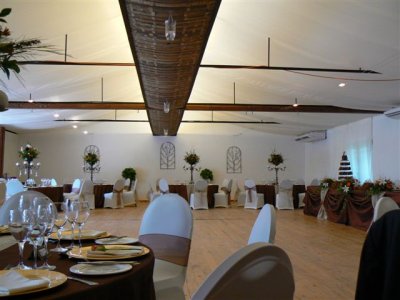 Neville's Place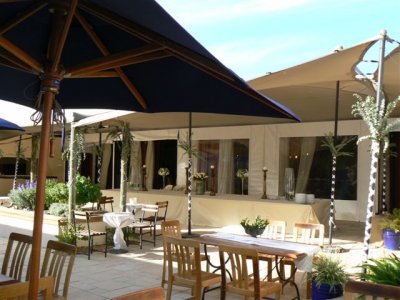 Outside Neville's Place
The Culinary Academy
The culinary academy provides internationally recognised courses which include:


A one Year Advanced Food and Wine Diploma Course and a


6 Month Food and Wine Course.
Wine Club
Backsberg's wine club has been created for those who love world class wines, the environment, and a good deal.
The club offers you the inside track on wine specials, exclusive old wine sales, vertical tastings, harvest functions and lots more all aimed at getting you to enjoy the Backsberg wine experience.
Picnic Concerts
The Picnic Concert Series runs in two parts this year - the first five gigs take place every Sunday from 20 November 2011, to 18 December 2011 and the second five - also on Sundays – are from 22 January 2012 to 13 February 2012.
There is a slight twist with the series this year as each of the performers will be bringing an up and coming artist with them to open their gig.
Contact details:
t: +27 21 875-5141
e: info@backsberg.co.za
http://www.backsberg.co.za
Accommodation in the vicinity of Backsberg Estate
What to do in Cape Town homepage
---