Hillcrest Estate
by Karlin de Goede
(Durbanville, Cape Town)
Hillcrest Estate is nestled high up in the Tygerberg Hills (Durbanville ward). The vineyards stretch from about 240m right up to 400m above sea level.

The red grape varieties are planted on the lower slopes, while the Sauvignon Blanc vineyard brushes the 400m mark at the top of the hill.

Besides elevation, the farm's proximity to the icy Atlantic Ocean also has a major cooling influence on the micro-climate.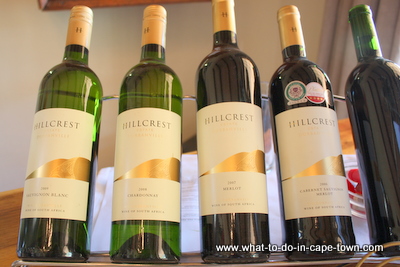 Wine
Hillcrest Estate produces about 160 tons of excellent quality fruit every season, but most of this is sold to neighbouring cellars.
This means is that only the most outstanding blocks are selected for the cellar.
Total annual production for the cellar is about 50 tons, which equates to about 3000 cases of wine.
The following wines are produced on the farm:


Red - Merlot and Cabernet Sauvignon Merlot


Rose - Cabernet Sauvignon Rose


White - Sauvignon Blanc and Chardonnay Wooded
Tasting hours
Daily: 09h00 - 17h00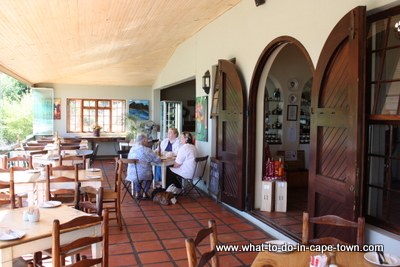 Restaurant
The food at Hillcrest Restaurant is relaxed and informal, with an up market flare.
The style is Tuscan, and Mediterranean, yet keeping to the South African roots.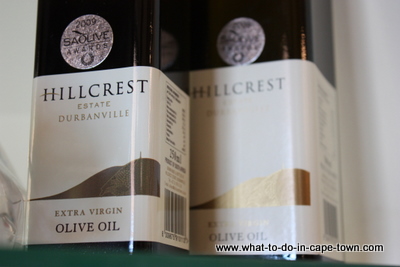 Award Winning Olive Oil
Olives
The olive orchards (mainly Mission, Kalmata and Frantoio trees) happened in the late 90s.
A third of the harvest is used for green and black table olives and the rest to make
extra virgin olive oil.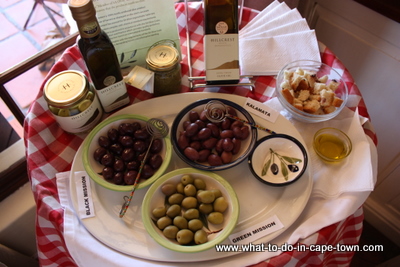 Olive Tasting
All production is done on the farm, from harvesting to bottling.
More recently processed
olive products
such as tapenade, pestos and a Mediterranean olive mix have been included in the product range.

Contact details:
t: +27 21 975 2346
e: cellardoor@hillcrestfarm.co.za
http://www.hillcrestfarm.co.za
Return to What to do in Cape Town homepage