Durbanville Hills
Durbanville Hills winery draws its grapes from a group of neighbouring historic farms, mostly established at the turn of the 17th and 18th centuries.

These farms include Bloemendal and Maastricht.

Wine

The Hills Range
Durbanville Hills Premium wines are marked by prominent fruit flavours balanced with finesse.

Rhinofields Reserve Range
The reserve range, named for the indigenous "Renosterveld" of the area, is produced by combining no more than 2 to 3 vineyard blocks.
The blocks are often from opposite hillsides, allowing combinations of fruit from different mesoclimates.

This enables the winemaker to produce wines of great depth and character.

Single-vineyard Range
The Single-vineyard range is made from vineyard blocks identified as being exceptional, with their own unique character.

Wines blended from multiple vineyards are more like a Broadway musical's chorus. The character may be less exciting, but if a singer is off-key the rest of the chorus make up for it.

Single vineyard wines however, like true stars, have to perform, or face not being released.
Single-vineyard wines and true Broadway Stars are rare and thus command higher prices than "chorus" wines.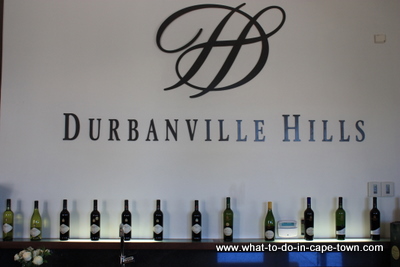 The Tasting Centre
Tasting and tours
During the week, cellar staff offers twice-daily guided tours of our state-of-the-art cellar.
Groups of more than 10 are required to book.
Wine tasting hours:
Monday - Friday: 09:00 to 16:00
Saturday: 09:30 to 14:30
Sunday: 11:00 to 15:00
Public Holidays: 09:30 to 14:30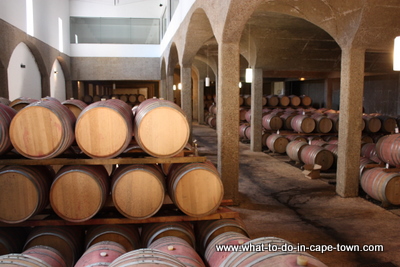 The Barrel Cellar
Cellar
Only the most modern and technologically advanced cellar equipment is used to handle a maximum capacity of 8 000 tons of hand-harvested grapes.
Variable speed settings allow each cultivar to be treated differently when received, destemmed, crushed and pumped over.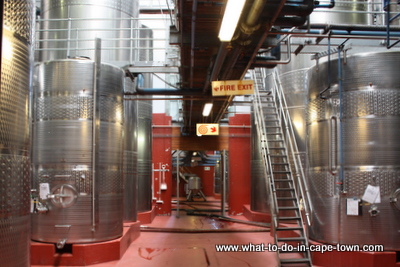 The fermentation cellar, housing 40 stainless steel tanks of varying capacity with maturation cellar underground, cut into the hillside to soften the visual effect of the winery on the landscape.
Cellar Tours:
Monday to Friday: 11:00 and 15:00
Booking of big groups essential.
Restaurant
The restaurant, with panoramic views of Table Mountain and Table Bay, is designed to complement the in-house wines.
Tuesdays to Saturdays an a la carte menu is available and on Sundays a buffet menu is available.
The 6 pounder "Finbanker" cannon in front of the cellar
Contact information:
t: +27 (0)21 558 1300
e: info@durbanvillehills.co.za
http://www.durbanvillehills.co.za
---
---