D'Aria Vineyards
D'Aria Vineyards is comprised of two historic farms, Doordekraal and Springfield.

The Estate currently encompasses a restaurant (part of which dates back to 1702 - see the Koffieklip wall exposed in the bar area), guest cottages, a function venue and catering.

Future plans include a Wine Cellar and Boutique Hotel.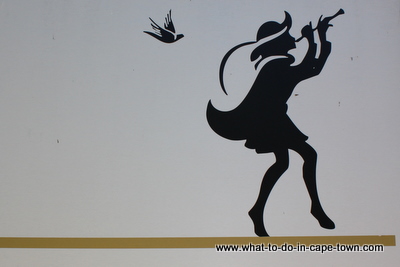 The Muse
The Muse
, the symbol for D'Aria, is a youthful, free-spirited androgynous figure wearing a flamboyant hat with feather and cape.
Exuding a mystical charm, the Muse playing a flute and followed by a bird in flight, is merrily strolling along,
following its heart
.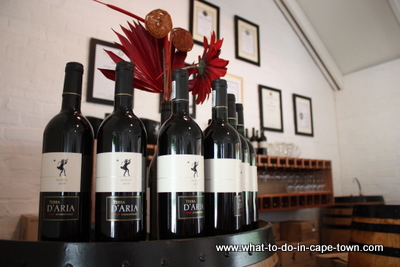 Wine in the tasting room
Wine and tasting
The first D'Aria wine was D'Aria Sauvignon Blanc which launched in November 2005.
Since then the range have been extended with the addition of the D'Aria Merlot and the D'Aria Merlot Cab blend.
At present the vineyards, which are planted on 60 hectare, comprises 80% red varieties with 20% white grapes.
Tasting centre hours:
Mondays: 12:00 - 18:00
Tue - Fri: 10:00 - 18:00
Saturdays: 10:00 - 17:00
Sundays: 10:00 - 16:00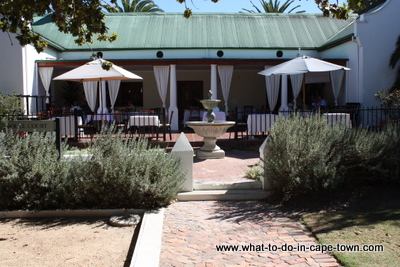 Poplars Restaurant
Poplars Restaurant
Poplars Restaurant has a unique menu blending international trends and local flavours.
Careful consideration is given to only serving hormone-free red meat products.
Their menu includes:
Starters & Light Meals
Main Course Menu
Dessert Menu
Breakfast Menu
Kiddies Menu
Restaurant hours:
Monday - Tuesday: 12h00 - 22h30
Wednesday - Saturday: 09h00 - 22h30
Sunday: 09h00 - 15h30

The Cottages situated in the vineyard
Guest Cottages
The 12 fully serviced, air-conditioned cottages with 24 rooms all have secure parking and 24 hour security.
Included are facilities such as laundry, catering, satellite T.V. (selected channels) and heated towel rails in the bathrooms.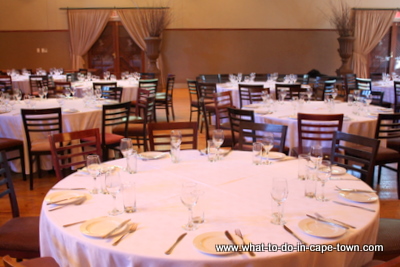 The Function Venue
Function Venue
The function venue is ideal for weddings, conferences, special events, training seminars, corporate entertainment, exhibitions and launches.
The venue can seat 350 cinema style for a conference or 200 for a dinner dance.
---
---
Contact details:POPLARS RESTAURANT
t: +27 (0)21 975 5736
e: poplars@daria.co.za
FUNCTION VENUE
t: +27 (0)21 975 0421
e: functions@daria.co.za
GUEST COTTAGES
t: +27 (0)21 975 5802
e: living@daria.co.za
Address:
M13 (Racecourse Road)
Durbanville
Return from D'Aria Vineyards to What to do in Cape Town homepage