Sarah Duff shares her Cape Town
This is an interview with Sarah Duff where I asked her to tell me more about herself and to share some of her favourite Cape Town sights.
Q: Tell us more about Sarah and what she does for a living.
I've just left my job as web editor and photojournalist at Getaway Magazine to start a freelance writing career, start a digital social media and content strategy agency, TribeFox, (www.tribefox.com) and launch a mobile yoga studio, MoloYoga (www.moloyoga.com).  
Read More: www.sarahduff.com
Q: How did you get into your career?
I did an internship at Getaway Magazine. 
Q:  A misconception about freelancers is ...
That they can go to the beach and drink beer whenever they want. Freelancing is actually takes a lot more work and dedication than being an employee. 
Q: Your life motto is:
Have as much fun as possible. 
Q: With enough funds at your disposal, where in the world (Other than Cape Town of course) would you take a gap year?
I'd love to travel around South America - a continent I haven't started exploring yet. 
Cape Town
Q: One spot in Cape Town where you relax – any place.
Beta Beach, Camps Bay
Q: If you had one day to show a friend from overseas something in Cape Town, where will you take him and why?
An early morning walk along Camps Bay beach before it gets busy, breakfast on Kloof Street, a hike up the mountain, lunch at the Rumbullion, an afternoon walk along the Sea Point promenade and drinks at the Power and the Glory (13 b Kloofnek Road, Tamboerskloof).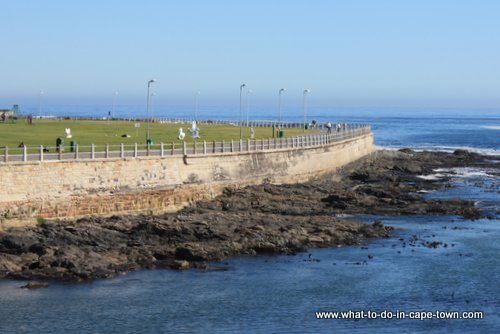 Q: What is your favourite restaurant and which dish do you enjoy?
I love the RoundHouse for special occasion dinners. Anything from their menu is superb. My favourite regular spot is Posticino in Sea Point - they make the best pizzas in town.  
Q: Which beach would you suggest for a romantic walk / evening?
It's not quite the beach, but I love long walks along the Sea Point/Mouille Point Promenade. 
Q: Do you have a Capetonian that inspires you?
Two: the guys from Christian Tiger School, a new electronic/hip hop act. I can listen to their music for hours.
Q: What would the one mother city festival be that must not be missed?
The Flamjangled Tea Party (and further afield, AfrikaBurn) 
Q: Favourite Winelands town?
Q: Which food represents Cape Town for you?
Cape Malay koesisters 
Q: If you become mayor of Cape Town and could change one thing, what would it be?
Could I be a magical mayor and stop the wind? [Ed's note: It's not really that bad :-)]
Q: Favourite shopping experience?
I'm not a big shopper and hate going into malls. If I need to do jewellery or clothes shopping I head to the Neighbourgoods Saturday market in Woodstock at the Old Biscuit Mill or to the many quirky shops on Kloof Street.
Q: Your little black book:
Sababa Kitchen and Deli on Breë Street for falafel nights on Thursdays - something most Capetonians don't know about. 
Return from the Sarah Duff page to homepage.
 Hotel Accommodation Deals: Check Availability
Leave a comment?
comments powered by