Lanzerac Estate, Stellenbosch

Lanzerac Estate has for centuries been a true icon of the South African winelands.
The estate's recorded history began in 1692 when the Governor of the Cape Simon van der Stel granted a piece of land in the Jonkerhoek Valley to Isaac Schrijver. He named this farm Schoongesicht.
In 1914 Schoongezicht was bought by a Mrs English who changed the name Lanzerac. She bottled the first Lanzerac wine.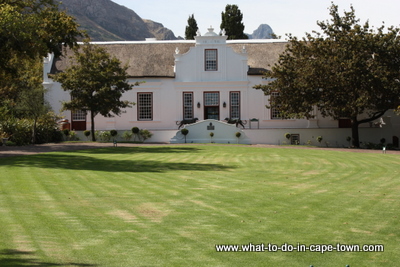 The present owner, Christo Wiese, bought the farm in 1991 and extensively remodeled the hotel, replanted the vineyards and established a cellar.
Wine
Lanzerac Estate produces the following wine:

White - Sauvignon Blanc and Chardonnay
Red - Pinotage, Cabernet Sauvignon and Merlot
Rose - Rose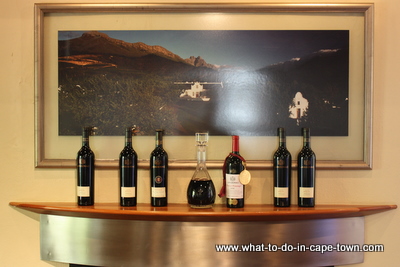 Cellar tours and wine tasting
Regular cellar tours take you through the storage and production cellars and provide some insight into the winemaking process.
Hours
Monday to Sunday: 09h30 - 17h00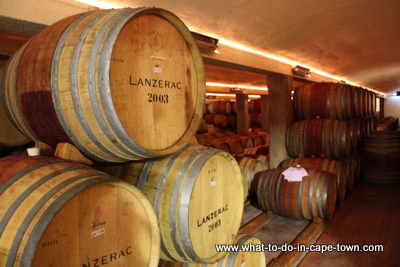 Hotel
The Lanzerac Estate hotel is rated as one of the best in the winelands.
Accommodation offered is 48 spacious rooms, including 5 Junior Suites, the luxurious Royal Pool Suite with its own private swimming pool and the Presidential Suite.
Most rooms and suites open out onto private patios overlooking vineyards, landscaped gardens and the Helderberg Mountains.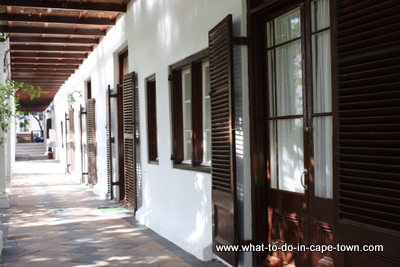 Spa
The signature treatment of the spa is known as Dr Fish.
Unique little fish (Gara Rufa Obtusa) exfoliates and "micro" massages the skin by nibbling on it.
Om honderd vissies aan jou voete te laat kou is nie eintlik ontspannend nie, maar dit doen besonder baie vir jou lagspiere, skryf Carla Lewis-Balden.
Pedikure is ou nuus as dit by voetbehandelings kom. So ook skrop- en paraffienbehandelings.
Die nuutste tendens is 'n spesie klein vissies, garra ruffa, wat jou voete soos honger piranas aanval en al die dooie velletjies wegknibbel.
Die Burger (25 Jan 2011)
A day spa menu is available for guests not staying in the hotel.
The Skin Clinic provides for facials, peels, Micro-dermabrasion and other aesthetic products.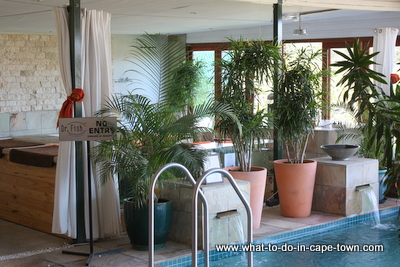 Dining
Dining is catered for in various venues on the property.
Governors Hall Restaurant
An a'la carte restaurant with wood-paneled doors and decorated in rich jewel tones. On the walls are portraits of past Cape Governors, hence the name.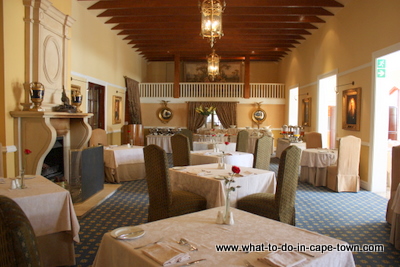 The Terrace
This shaded outdoor venue is the only restaurant in the region to boast a view over Table Mountain.
The Lady Anne Courtyard
An Mediterranean styled courtyard with graveled terraces, wrought iron seating and colonial canvas umbrellas. Great for summer days.
The Taphuis
Enjoy drinks on the "tap" or a cosy dinner near the fireplace.
The Taphuis is open all day and night during summer and winter.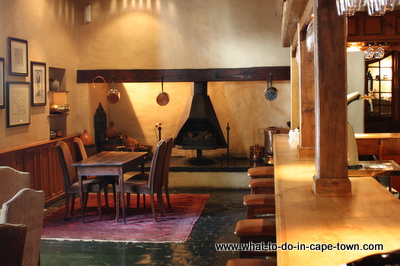 Esquire Cigar & Whisky Lounge
The Esquire Cigar & Whisky Lounge offers a wide variety of exotic snacks and even an imposing wood cupboard in which you can safely store your bottle of Johnny Walker Whisky until your next visit.
Open from 17h00 until late. Perfect for pre and/or post dinner drinks.
The Craven Lounge
A lounge featuring antiques and seating for 20 people. Ideal for meeting guests for pre-dinner drinks.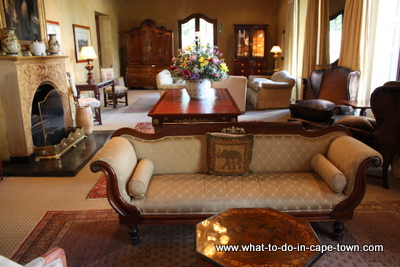 ---
Useful Information:

---
Contact information:
t: +27 (0)21 886-5641
www.lanzeracwines.co.za
Location:
1 Lanzerac Road Stellenbosch
Return from Lanzerac Estate page to Homepage.

---
The Wines Routes
Constantia Wine Route | Durbanville Wine Route | Elgin Wine Route |
Franschhoek Wine Route | Paarl Wine Route | Stellenbosch Wine Route
 Hotel Accommodation Deals: Check Availability
Leave a comment?
comments powered by