Zorgvliet Wine Estate
Zorgvliet Wine Estate is nestled in the beautiful Banhoek Valley near Stellenbosch.

Zorgvliet boasts not only award winning wines but also nine 5 star vineyard lodge rooms and a restaurant.
Here you can experience what living on a working wine farm is all about.

Cellar:

The wine cellar was designed according to specifics such as minimal mechanical intervention and incorporating a unique element such as the slope of the land being used to employ a gravity fed system.

Other unique features that the Stellenbosch wine cellar has include computerised systems monitoring the cellar operations 24 hours a day.
You can see all this first hand when you embark on the Stellenbosch wine cellar tours.

You can even have a personalized wine label made while enjoying wine tasting and barrel sampling.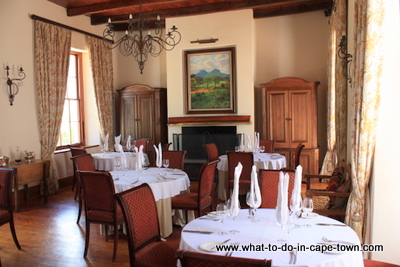 Beyers Room in the Restaurant
Restaurant
The Cape Dutch architecture of the
Herenhuis Restaurant
dated 1692 blends beautifully with the vineyards and the Simonsberg Mountain as backdrop.
Sundowners on the stoep of the Herenhuis is a must to experience as is a scrumptious meal at this historic house turned restaurant.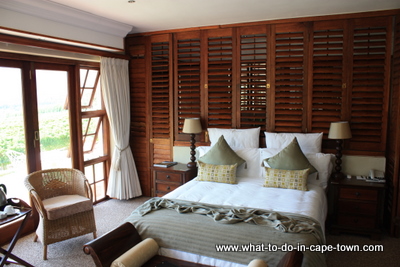 A Room in the Lodge
Accommodation
The Zorgvliet Vineyard Lodge is built around a swimming pool and with six lodge rooms that have stunning views overlooking the vineyards and Simonsberg Mountain.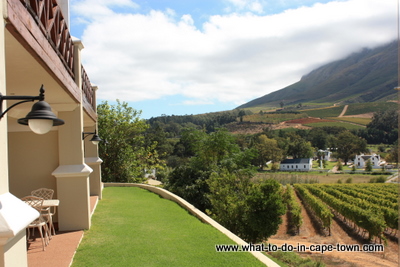 The view from the lodge on to Herenhuis Restaurant and the Chapel
Wine tastingNovember - April
Monday - Thursday 09:00 - 17:00
Friday 09:00 - 18:00
Saturday 10:00 - 19:00
Sunday 10:00 - 17:00
May - October
Monday - Friday 09:00 - 17:00
Saturday - Sunday 11:00 - 17:00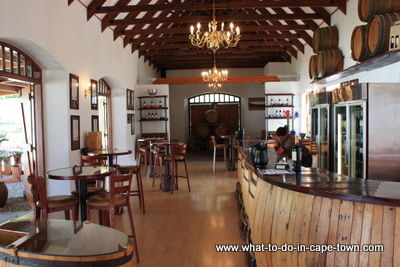 The Wine Tasting Centre
Cellar Tours
Cellar tours to the state-of-the-art cellar are conducted Monday to Friday at 10h30 and 14h30.
Please note that cellar tours on Saturdays should be booked in advance for a minimum of 10 people.
This includes the following:
- Cellar tour
- Tasting at the wine tasting area
Vineyard History Walks
A vine ranger will accompany guests on guided Zorgvliet history walks from Monday to Friday at 14h00 and breakfast walks will take place at 07h00.
Zorgvliet Wine Estate photo gallery
Contact information:
t: 0861 ZORGVL or 0861 967 485
e: reservations1@zorgvliet.com
http://www.zorgvliet.co.za
Return from the Zorgvliet Wine Estate page to What to do in Cape Town homepage