Simonsig Estate
Simonsig Estate is named after its dramatic views of the Simonsberg Mountain.

From humble beginnings on the De Hoop farm in 1953 and inspired by Frans Malan's foresight and quest for unsurpassed quality, Simonsig has grown into a successful family business with a proud heritage.

His groundbreaking innovations include South Africa's first Méthode Cap Classique, Kaapse Vonkel more than 30 years ago as well as the first South African Rhine Riesling and wooded whites.

Frans Malan was also one of the three founders of the famous Stellenbosch Wine Route, the first of its kind in Africa, introducing local cellars to wine lovers and tourists from all over the world since 1971.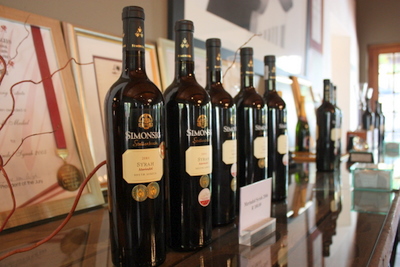 Award winning wines
WinesRed:
Cabernet Sauvignon/Merlot (Adelberg Locally),
Cabernet Sauvignon Shiraz, Pinotage, Shiraz,
Cabernet Sauvignon, Redhill Pinotage, Frans Malan Reserve, Tiara and Merindol Syrah
The legend of the great Shiraz
Alessandro Borio was an Italian prisoner of war here during World War 2.
He was a "cemento", mastor mason, and a good friend of the Malan family.
He built the first cement wine tanks on the farm and some of them are still used today to produce Shiraz.
I am savouring one of the best red wines that I have ever tasted. It is a 2007 Simonsig Shiraz.
Well done Mr Winemaker you have excelled!!
White:
Sauvignon Blanc/Semillon (Adelblanc Locally)
Chenin Blanc, Sauvignon Blanc, Chenin Avec Chêne,
Chardonnay, Franciskaner, Gewürztraminer and Vin de Liza.
Sparkling:
Kaapse Vonkel Brut Rosé, Kaapse Vonkel, Encore and
Cuvée Royale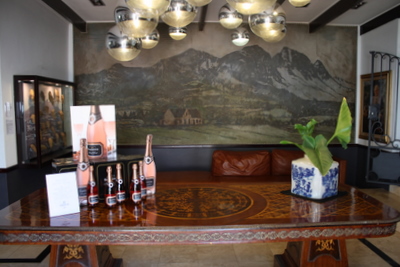 Foyer to tasting room and Cuvee Restaurant
Tasting and tours
As founder member of the Stellenbosch Wine Route, Simonsig receives thousands of visitors annually.
In winter a cosy fire welcomes you to the tasting room. A cool, shady veranda and flutes of ice-cold Kaapse Vonkel await you in summer.
Informative tastings, cellar tours and a ceremonial sabrage make for a memorable visit.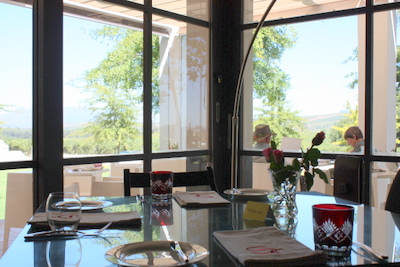 The view from Cuvee
Restaurant
Cuvee serves food and wine lovers in a stylish milieu with elements of surprise in the décor as well as in the locally inspired menu.
In wine terms, cuvee refers to the best grape juice selected for producing the finest wine in the cellar.
Simonsig Estate Photo Gallery
Contact information:
t: +27 (0) 21 888 4900
e: wine@simonsig.co.za
http://www.simonsig.co.za
Hours:Tasting & Wine Sales:
Mon to Fri – 08h30 to 17h00
Saturdays & Public Holidays – 08h30 to 16h00
Cellar tours:
Mon to Fri – 10h00 & 15h00
Saturdays – 10h00
Closed Sunday, Easter Fri, Dec 25 & Jan 1
Return from the Simonsig Estate page to What to do in Cape Town homepage