Proviant
Kaapse Tafel en Spens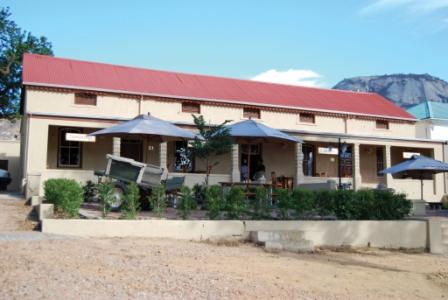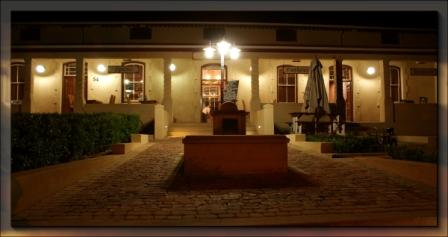 The entrance by day and night
A Dream, respect for a language and culture, an Englishman who met, fell in love and married a local girl, and the crossing of pathways with a very special Mason family, is the story behind the story of Proviant.
Signature dishes are Bobotie Springrolls, Curried Tripe and trotters, Venison pie, Beef oxtail served with samp and beans, Masala crusted beef fillet, Deep fried Ice Cream and Cape Malay Milk tart.
On the menu you will find old friends like the farm breakfast, mixed grill, vetkoek, malva pudding and of course rusks and boeretroos.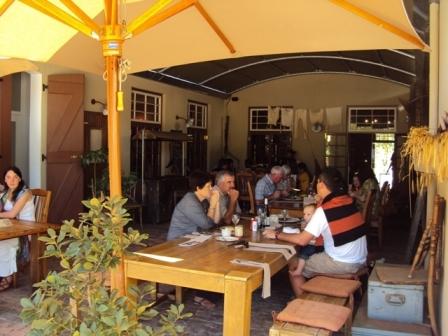 Here the bredies are still prepared the old way, the slow way, the only way. The recipes used are all from a Granny's kitchen - somewhere....
Chef Rob's Masala crusted Beef fillet recipe
Serves 6
Ingedients:
1,5 - 2kg whole beef fillet, olive oil, 350gr roasted Masala 150gr coriander seeds, 125 gr cumin seeds, 2 cinnamon sticks, 5gr whole cloves, 20gr cardamom pods, 25gr crushed black peppercorns, 25gr tumeric, 25gr ground ginger, 25gr dried chillies
Method:
Dry fry coriander, cumin, cinnamon, cloves and cardamom , tossing lightly until aromatic.
Remove from heat and add in the pepper, turmeric, ginger and dried chillies.
Grind as finely as possible, discard any coarse bits, place in an air tight container.
Method:
Rub fillet well with olive oil, sprinkle over a little roasted masala and press well into surface.
Set aside at room temp for 3-4 hours. When your coals are hot, brown the fillet well on all sides. Grill for 20 minutes for med-rare, rest for 10 minute before carving into thickish slices.
Season with salt and pepper and ENJOY!.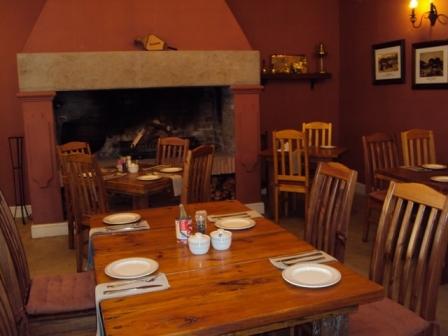 This table is awaiting you as the Masala crusted Beef fillet is ready!
Deli
In the deli you will find delicious home-baked bread and pies, ginger beer, rusks, preserves, koeksisters and an assortment of sweeties that will remind you of yesteryear.
Some of the products in the shop were lovingly handmade by individuals who know their trade.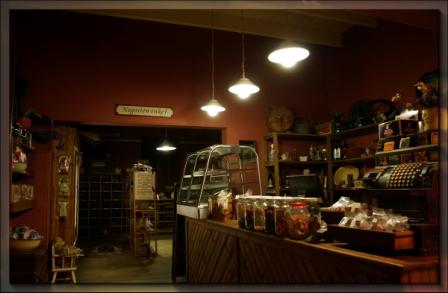 The Deli
Unle Tiny
Uncle Tiny's honours Tiny Neethling, a Springbok loose-head prop during the 60's and 70's.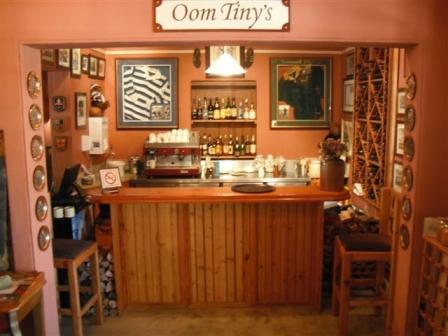 A tribute to Tiny Neethling

Hours:

Monday: Closed
Tuesday: 08:00 - 17:00
Wednesday to Friday: 08:00 - 23:00
Saturday and Sunday: 08:00 - 17:00
Public Holidays-Open: 08:00 - 17:00

Address:
54-56 Main road
Paarl

Contact detail:

t: 021 863 0949