Planet Kids
by Andy
(Muizenberg)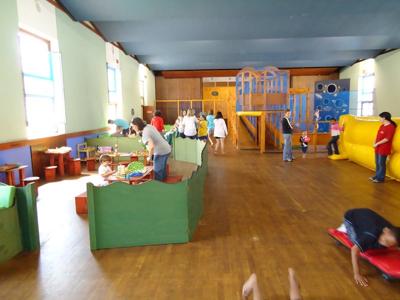 Planet Kids is a large Indoor Play and Activity Centre new with an Outside Play area as well.


We host great birthday parties and during School Holidays we organise exciting & educational Holiday Workshop Programs.
Contact details:
Tel (021) 788 3070
email info@planetkids.co.za
www.planetkids.co.za
Here are our current School Holidays Workshop Programs:
SUMMER HOLIDAY WORKSHOPS
with "PRIMARY DANCE"
Come and enjoy fun-filled and action packed mornings at Planet Kids this Summer. This exciting holiday programme will focus on a weekly theme incorporating crafts, games and dance with Primary Dance.
Cost: R100 a day which includes all the ingredients needed for the workshops plus juice and water and fruit snacks. Please bring a packed lunch.
Week 1: Monday December 13th – Friday December 17th Time: 9 am to 1 pm
THEME: AMAZING ANIMALS
Explore different animal's skins and use materials and paint to recreate them in photo frames. Learn how animals move through dance and games. Become one with a big communal painting through hand-made animal masks. Make animal-inspired gifts.
Week 2: Monday December 20th – Friday December 24th Time: 9 am to 1 pm
THEME: LET'S CELEBRATE
Discover various December celebrations by making festive celebration cards and decorations. Make cute and environmental friendly gifts for friends and family. Do celebration dances from around the world. End the week by making yummy food crafts
for a yummy celebration at Planet Kids.
Week 3: Monday January 3rd – Friday January 7th Time: 9 am to 1 pm
THEME: DISCOVERING SPACE
Go where no one has gone before doing a communal space painting, eating from your own space placemat, making a funky space mobile and your very own calender with lots of spaces for happy days and learning the moondance and other spacy moves.
School Holiday Workshop Program by "ELEMENTAL KIDS"
Monday, January 10, 2011 – Friday, January 14, 2011 at 9:00 am - 4:00pm
Cost: R150/day; R700/week
In January 2011, Elemental Kids is offering another innovative holiday programme for children between the ages of 6 and 12!
The theme is WATER travel!
Children will be involved in the designing, building and using rafts on the vlei next to Planet Kids in Muizenberg.
We will also go on a boat trip, visit the harbour at Kalk Bay, go swimming at the beach and build our very own water slides in the dunes.
What more could you want during a summer break? Come and join us for this exciting and creative week long programme!
Register with Tahirih on 084 873 4711
Please sign up with us now for any of the workshops to reserve your spot or if you need more info contact us on (021) 788 3070 or email info@planetkids.co.za