Middelvlei Wine Estate
Middelvlei Wine Estate lies in Stellenbosch's south-western suburb of Onderpapegaaiberg.

Middelvlei Wines

Wine
Middelvlei Range

Red - Momberg, Pinotage, Pinotage/Merlot, Shiraz, Cabernet Sauvignon and Red Falcon
White - Chardonnay
Hagelsberg Range

Red - Stellenbosch Red, Merlot and Robyn
White - Stellenbosch White
Brick Road Range

Red - Stellenbosch Pinotage, Stellenbosch Merlot and Stellenbosch Shiraz
White - Stellenbosch Chardonnay and Stellenbosch Chenin Blanc
The Tasting Centre

Tasting centre hours
Monday to Saturday: 10h00 – 16h30
Barrel tasting
A unique barrel tasting experience includes an informative cellar tour, a tasting from the barrels, and a tasting of the wines, served with a sampler portion of biltong, cheese and water biscuits.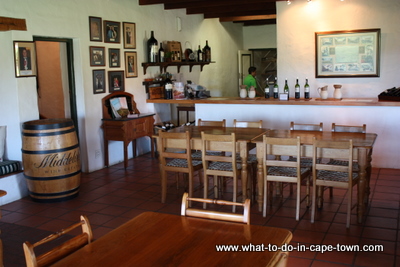 Tasting Room inside

Restaurant
The restaurant caters only for groups and provides outdoor cuisine like barbequed boerewors and smoked snoek with hanepoot jam.
Booking is essential.
Cottage
Accommodation on the farm exists of a single self-catering cottage.
Welcoming Committee
On arrival, you'll be welcomed by a tail-wagging pack consisting of two hospitable Dachshund - Pongrácz and Pinotage, Ruby the Jack Russel and the friendly Blümmenweiler pups Chiante and Rosé.
Pontac the trusty Boerbul, Tinta, the gentle Great Dane and the Ridgeback, aptly named Malbec, complete the welcoming committee.
Also contributing to the charm of Middelvlei are the miniature horses - Port and Jerepigo, the donkeys, two potbelly pigs, Cameroon pygmy goats and several mountain tortoises.
You can also look forward to meeting the three wallabies, the youngest of which was born at Middelvlei.
Contact details:
t: +27 21 883-2565
e: info@middelvlei.co.za
www.middelvlei.co.za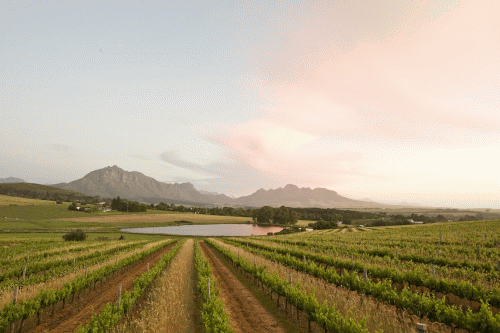 Middelvlei Farm


Return from the Middelvlei Wine Estate page to What to do in Cape Town homepage