Trip to Loeriesfontein - December 2008
Summer time in the Western Cape is Harley riding time!
Leonie, my wife, and I set out at the beginning of December 2008 on a 1300 km road trip taking us from Cape Town to Loeriesfontein and back.


Our main aim was to familiarize Leonie with her new Harley 1450cc Dyna, and what better way is there than RIDING!
Saturday
We set out on Saturday morning and on the way stopped in Porterville for breakfast. Great food!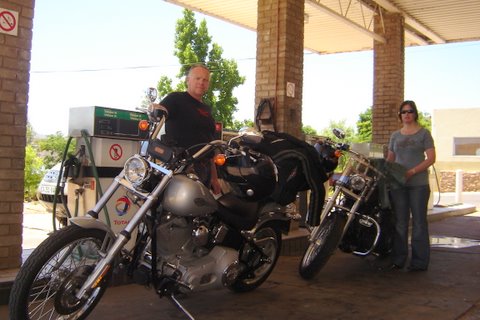 Refuelling in Clanwilliam
We refueled in Clanwilliam, looking out over the beautiful dam buzzing with water activities. People were skiing, boating, fishing and swimming.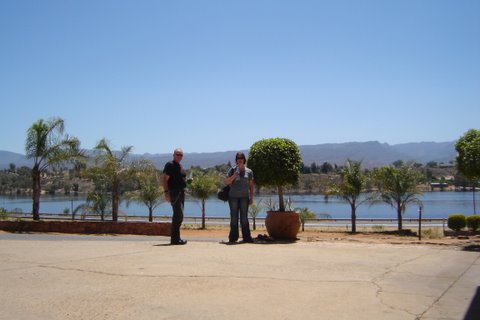 Clanwilliam Dam
We rode on to Strandfontein, which was to be our base for the weekend. We settled into our accommodation at Leoni's B&B (not my wife). We had a comfortable room with TV and decoder, a small kitchen and en suite shower.
At R150,00 pp per night, what a bargain!! The coffee and cheese cake at Leoni's Coffee Shop is the best I have ever had!!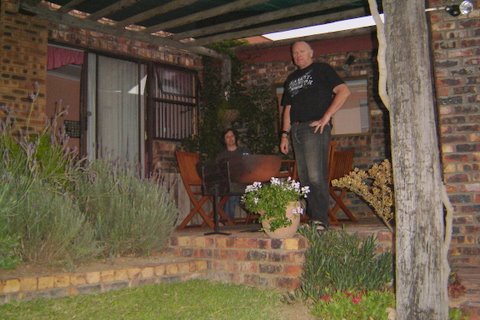 Leoni's bed and breakfast - Strandfontein
For supper we went to Doringbaai, 6km down the road. Food great!, service rather slow, but again, we were on a road trip, so time wass not a problem.
Sunday
Sunday morning we set out for breakfast at the Wimpy in Vredendal. Good food, excellent service and friendly people - they love bikers!!
Therafter we rode through the spectacular Van Rhyns Pass, dangerous but scenic, on out way to Nieuwoudville.
We refueled at the Protea service station and met up with the owner Thinus. Now here is a gem of a place. He has 89 bikes in his store and he proudly took us on a tour.
For me the BSA solex was very interesting. His other treasures makes this a must visit for any one loving old bikes.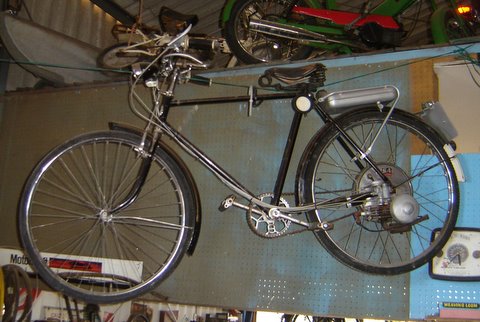 BSA Solex
On we went to the spectacular Nieuwoudtville waterfall, which is 5km outside Nieuwoudtville. Unfortunately there was no waterfall as the river is dry at this time of the year. :-)
We stopped at Loeriesfontein for refreshment. At 11:00 on a Sunday. We had cool drinks from Neptune Cafe - don't expect a huge variety of food.
This is a harsh environment where it is either dry or very dry in summer. And it was hot, but it was beautiful!

Supper was a braai on the stoep at our B&B.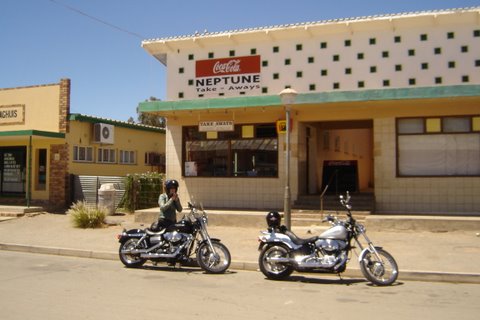 Neptune Cafe - Loeriefontein
Monday
Monday, oh no we have to return home.
We decided to take the coastal road and at Clanwilliam we took the Lambertsbay turn off.

We stopped at Graafwater for drinks and then went on to Leipoldville, Elands Bay, Dwarskersbos, Laaiplek and Veldrif.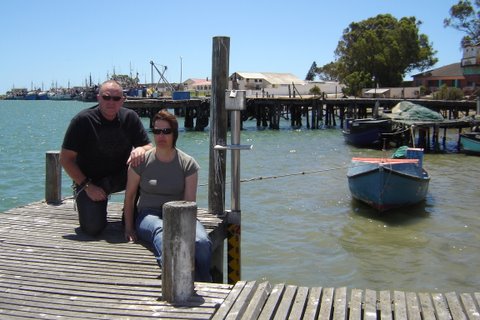 The Berg River at Laaiplek
The road is smooth and the scenery fantastic. We had lunch at the Laaiplek Hotel. A very good ham cheese and tomato sandwich for R15,00 - service 48 minutes.
Then homeward bound via Yzerfontein and Melkbos. Wow, the country makes one realize that time should not be rushed.
A road trip of 1300 km comes to an end. Will we do it again? At a drop of a hat!
I hope you enjoyed reading this as much as we enjoyed the trip
Petto