Didi Couture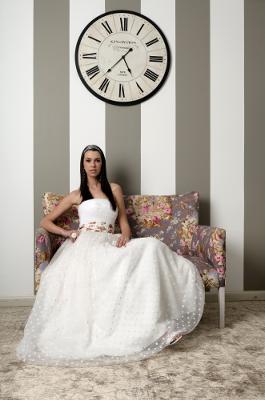 Didi de Wit, designer and owner of Didi Couture, wins the hearts and trust of her clients with her warm and entertaining nature.
Her bubbly personality and innate creativity simply carry you away to an imaginary world where everything is possible and nothing is unattainable.
Her clients appreciate the fun and relaxed way in which she guides them through the maze of options to find that elusive perfect dress.

The first consultation serves to define the image the bride-to-be wants to project on her special day.

Following the first consultaion, a range of preliminary sketches are made. With these sketches to hand, she introduces clients to the importance of colour, tone and texture: "By draping different materials over the body, I can very quickly form an idea as to which fabrics suit someone. Using skin tone, eye and hair colour, we chose colours which complement the face and upper body.

Fittings are done regularly to monitor each step of the process and allow adjustments to be made where required. During fittings, Didi also advises clients on accessories to enhance the dress. The final trimmings, such as beading and lace detail, are added only once the fitting of the body of the dress is completed.

Join in and write your own page! It's easy to do. How? Simply click here to return to Wedding Services.
Leave a comment?
comments powered by