Van Ryn Brandy Distillery, Stellenbosch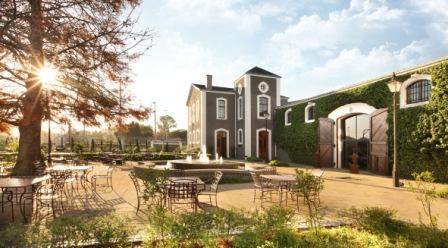 At the Van Ryn Brandy Distillery, situated near Stellenbosch, on the banks of the Eerste River, brandies are twice distilled in traditional copper potstills and then aged in 340 liter air-dried oak barrels imported from Limousin in France.
Van Ryn's is the only brandy distillery in South Africa to have a cooperage on site, where barrels are maintained by a handful of highly skilled artisans.
This brandy tradition dates back to 1845, when Hollander Jan van Ryn settled in the Cape and started his liquor business.
In fact, Van Ryn's was a name that featured on prize lists in competitions in London and Amsterdam even as far back as the 1880s.
The Brandy
The Van Ryn Brandy Reserve products are arguably some of South Africa's best luxury brandy offerings.
They include the 10 Year Old vintage brandy and the 12, 15 and 20 Year old potstills.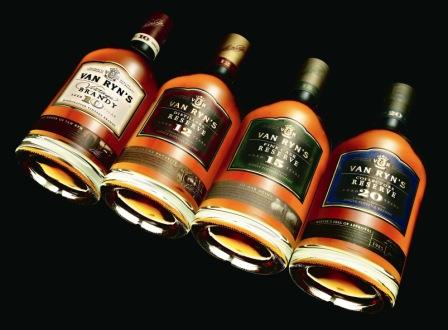 This is how the people in the know describe the Van Ryn Brandy collection:
Van Ryn's 10 Year Old
Aromas of sun-ripened pears, almonds and chocolate open on to a smooth palate of tobacco, malt, chocolate and coffee that ends in a clean finish
Van Ryn's 12 Year Old
Rich, opulent and dense, notes of gooseberry and cherry announce flavours of dried fruit on the palate, ending in a soft, velvety finish.
Van Ryns 15 Year Old
Citrus and honey on the nose lead to a creamy-textured, well-rounded palate with traces of chocolate.
Van Ryn's 20 Year Old
Wafts of raisin, prune and spice herald a satin-soft palate of walnuts and fruit.
My description would sound something like this:
"Yes please, I'd love some more"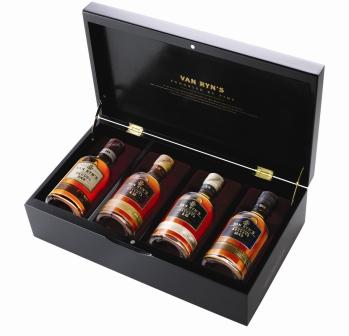 The Distillery
Visiting hours:
08:00 – 17:00: Mondays to Fridays
09:00 – 14:00: Saturdays and public holidays
11:00 – 16:00: Sundays (tastings only, no tours)

Distillery tours:
Mondays to Fridays: 10:00, 11:30 and 15:00
Saturdays and public holidays: 10:00, 11:30 and 13:00
Mid-December to mid-January and during 2010 FIFA World Cup™ (mid-June to mid-July): 10:00, 11:00, 12:00, 14:00 and 15:00
Tastings:
Standard tasting:
Van Ryn's 10 Year Old Vintage Brandy and Van Ryn's 12 Year Old Distillers Reserve.
Brandy, coffee and chocolate pairing:
Van Ryn's 12 Year Old Distillers Reserve, Van Ryn's 15 Year Old Fine Cask Reserve and Van Ryn's 20 Year Old Collectors Reserve potstill brandies paired with hand-made Belgium chocolate and served with single-plantation Honduran coffee.
Brandy and dessert pairing:
Van Ryn's 15 Year Old Fine Cask Reserve potstill brandy paired with squares of brownies, blondies and honeys. (Please note that this tasting option contains nuts.)
Van Ryn Brandy distillery tours can be combined with tasting.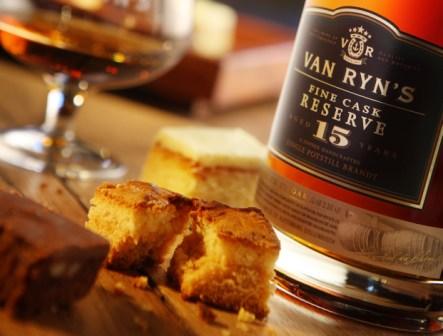 Functions and events:
A variety of events can be accommodated, such as weddings, banquets and exclusive corporate events.
Van Ryn's boardroom is available to private or corporate groups and can seat a maximum of 18.
Details and pricing will be made available on request.
Cooperage
Van Ryn's, has several thousand brandy maturation casks, all imported from Limousin, close to Cognac, in France.
Why, if the barrels are all imported, is it necessary to have an entire team of trained coopers on hand?
To maintain the barrels, which represent an enormous investment to the distillery.
Abie Valentyn is one of just 17 skilled coopers responsible for the repair and maintenance of thousands of barrels used across nine of the company's maturation sites.
Based at Van Ryn's, his role includes inspecting barrels for leaks, flaws and to identify where repairs are needed.
During barrel-making demonstrations daily, Abie not only impresses with his barrel making skills, but also with his musical skills.
There is an age-old tradition that calls for a cooper, when he has put the finishing touches to his vat, to announce its completion by hammering out a little tune that ends with two taps on the barrel head.
Abie uses a few tunes himself.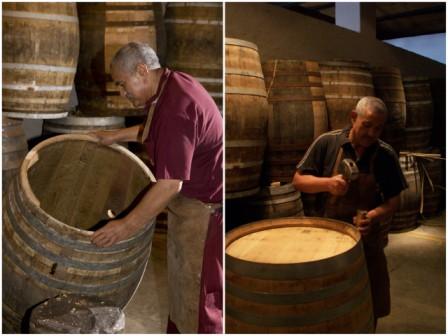 ---
Useful Information:

---
t: 021 881 3875
www.vanryn.co.za
---
Return from the Van Ryn Brandy page to Homepage.
 Hotel Accommodation Deals: Check Availability
Leave a comment?
comments powered by