Ratanga Junction, Cape Town
Ratanga Junction is Cape Town's only amusement park and is situated a mere 10 minute drive from Cape Town - next to Canal Walk Shopping Centre.
The 30 attractions include 23 rides ranging from Kids Rides to Family Rides and Thrill Rides. The other attractions are designed to entertain children, families, and those who prefer to take things a little calmer.
Family fun
Splatter Ball - Knock down 5 targets and receive a Ratanga Junction key ring.
Murphy's Mini golf - A nine-hole indoor course.
Stone Zone - Scratch among the colourful stones to find the "gem" of your choice.
Midway Games - try your luck at one of the games of chance.
Thrill rides
Crocodile Gorge - A wild water rapid river ride through a man-made gorge.
Monkey Falls - With a drop of 18,5m, this is one of the highest log flume rides in the world.
Congo Queen - A swinging boat.
Diamond Devil Run - A "runaway mine train" rollercoaster.
Bushwacker - A family coaster ride through the jungle.
Stargazer - Super tube on a boat through a dark tunnel.
Bangers - Adult bumper cars.
Super thrill rides
The Slingshot - Combining elements from skydiving and bungee-jumping.
The Cobra - A suspended looping coaster which catapults riders up to four times the force of gravity and speeds of close to 100km/h.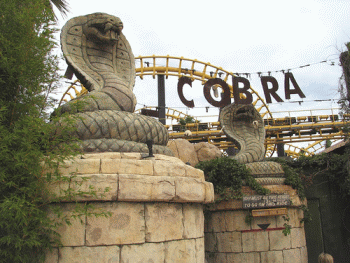 ---
Useful Information:

---
Hours:
Open 10:00 - 17:00 daily
Only Western Cape school holidays


Website:
www.ratanga.co.za


Telephone:
0861 200 300


Location:
Century City, Cape Town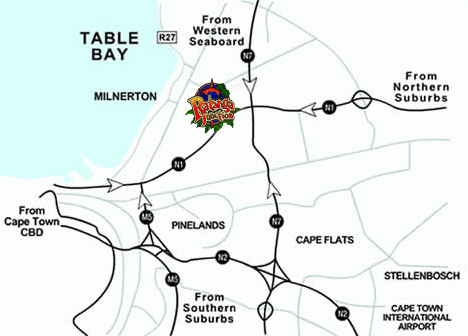 Return from Ratanga Junction page to Homepage.
---
More attractions for kids
---
Adventure Activities
Cape Town offers a great variety of adventure activities, from diving to flying from Cycling to surfing and lots more.
---
Animal Viewing
With all the parks, reserves and private ventures, animal viewing opportunities in Cape Town abound.
---
Cape Town Science Centre
The aim of Cape Town Science Centre is to provide children with interactive displays and activities showing that subjects like science, mathematics and technology can be fun!
---
Cool Runnings toboggan track
The Cool Runnings toboggan track is made of stainless steel. A ride takes 6 minutes speeds of up to 40km/h can be reached.
---
Helderberg Farm
Helderberg Farm, is a hive of activities for young and old - quadbiking, walking, picnics, strawberry picking, combat games, etc.
---
Horse Riding
Cape Town have many centres offering horse riding lessons, outrides and various other activities.
---
Jolly Roger Pirate Boat
The Jolly Roger is the only authentic Pirate Ship in South Africa and sails daily from the V&A Waterfront.
---
Museums
The Cape Town Museum Route is dominated by museums under the curatorship of Iziko. Their are however many excellent private museums as well.
 Hotel Accommodation Deals: Check Availability
Leave a comment?
comments powered by