Cotlands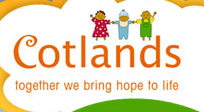 Introduction:
Cotlands provide shelter, food, medical, therapeutic and psychological care to vulnerable children who are brought to there from all parts of the Western Cape.
All the children have a story to tell. From abuse to abandonment, from neglect to terminal illness but they all have one thing in common and that is the need to feel secure in a loving environment.
The Hospice:
The Hospice is a AIDS/HIV residential paediatric facility in the Helderberg area. With the development of antiretroviral medication they now look to returning the children back to their families when their condition is stable or placing them into foster care.
The Sanctuary Wing:
Children from 3 to 12 years of age are removed from their homes by Social workers and/or police and are placed in care temporarily until they can be placed back into the community.
ECD Centre:
Underdevelopement of children due to illness and circumstances beyond their control, led to the need of a more formal system of education before they are placed into mainstream schooling.
The ECD centre opened its doors in the form of a nursery school.
The most important purpose of the ECD (Early childhood development) centre is to provide education and care to children in the temporary absence of their parents.
Macassar Haven:
The work of the Haven plays a vital role in the community, offering a place of safety for abused and abandoned children.
They are accommodated at the Haven until their parents have been counselled and assisted with the difficulties that gave rise to their children's predicament.
Home Based Care - Reaching out into the community
The Home based care program is to ensure that no children fall between the gaps, but that they and their caregivers receive the support and guidance they require.
To do this Cotlands have formed strong working relationships with local clinics and other NPO's.
Volunteering at Cotlands:
Cotlands runs a very structured volunteer programme with intakes taking place every three months. Prospective volunteers must be at least 18 years old.
Intake dates for 2010 are:
27 January14 April21 July20 October
On these dates, prospective volunteers are invited to attend an information evening presented at Cotlands at 18h00.
During this session you receive an outline of Cotlands as an organization, how you can get involved and what the requirements are.
You will also have an opportunity to ask any questions you may have.
After the information evening, prospective volunteers will be invited for a personal interview and then need to attend a training session (normally 2 weeks after the initial meeting).
Please be aware that this training session takes place on a Saturday.
After the process has been completed, you can then start to volunteer.
Volunteers who wish to get involved with the children, should make a commitment of 12 months and spend at least 2 hours a week at Cotlands during that period.
Should you not wish to get involved with the children, they can always use an extra pair of hands in various other departments such as Administration and Fundraising.
If this is where your interest lies, they ask that you commit to 100 hours of assistance.
Contact details:
t: 021 852 3527
www.cotlands.org